Orthopedics and Neuromusculoskeletal Medicine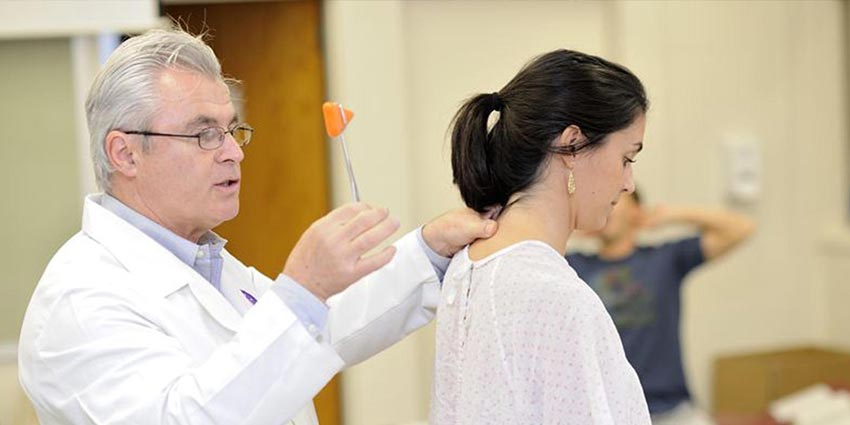 Become a chiropractic specialist and improve the quality of your patient care. This post-doctoral program is designed specifically for practicing chiropractic physicians interested in becoming neuromusculoskeletal medicine specialists in private practice or health care systems, including:
Community Health Centers
Rural Health Centers
Hospitals
Health Science Centers
Medical clinics
Allopathic, Chiropractic, and Naturopathic Medical Schools
The advanced clinical training will prepare you to become a chiropractic neuromusculoskeletal medicine specialist and enhance your skills necessary to evaluate and manage the care of patients with acute pain, chronic pain, and high-impact chronic pain syndromes. The University of Bridgeport offers a combination of onsite seminars and online learning, which reduces your opportunity costs by decreasing travel expenses and time away from your practice and family. This innovative, contemporary, and comprehensive post-doctoral training program offers a range of topics, including:
Neuromusculoskeletal Medicine

Neurosciences for the Chiropractic Clinician
Orthopedic Evaluation and Management
Neurological Evaluation and Management
Pain Evaluation and Management
Diagnostic Imaging
Primary Care Medicine and the Chiropractic Specialist

Integrative Medicine
Evidence-based Chiropractic Medicine
Patient-Centered Care
Federally Qualified Health Center
Patient-Centered Medical Home
Community Health Centers
Qualify to Apply for Board Certification as a Chiropractic Specialist
Upon completion of this post-doctoral course of study, you will be qualified to apply for board certification through the International Academy of Neuromusculoskeletal Medicine. With this "Board Certification" as a Diplomate in Neuromusculoskeletal Medicine (DIANM), you will have the credentials necessary to become a member of an integrated, health care team within a Federally Qualified Health Center, Community Health Center or a Patient-Centered Medical Home as a Chiropractic Specialist.
For more information, contact nmsm@bridgeport.edu or call 203-576-4880.
Registration & Fees
Contact us for information regarding future seminars or start online today!
Ten-hour weekend seminars: $300
Total Program Hours Available:
Orthopedics Specialty (a minimum total of 300 hours required)
Online 300 hours
Start Online Today!
Chiropractic graduates who apply and are conditionally accepted into the University of Bridgeport's three-year, post-doctoral Neuromusculoskeletal Medicine Resident Training Program must be credentialed by the University of Bridgeport and a Federally Qualified Health Center (FQHC) where the Resident will serve as a member of the medical staff. Additionally, FQHCs generally require re-credentialing of residents on an annual basis through a peer review process coordinated by the Program Director of the resident training program.
In order to successfully complete the neuromusculoskeletal medicine residency, residents are required to complete a rigorous academic and clinical training program and then pass the two-part examination offered by the International Academy of Neuromusculoskeletal Medicine. Completion of this process entitles the chiropractic physician to use the board certification title of Diplomate of the International Academy of Neuromusculoskeletal Medicine (DIANM).
A board-certified chiropractic neuromusculoskeletal medicine specialist focuses on the evaluation and management of patients suffering with pain syndromes and neuromusculoskeletal conditions.
Orthopedics/NMSM Seminar Schedule
Designed specifically for practicing chiropractors, the Neuromusculoskeletal Medicine Post-Graduate Program will give you the credentials necessary to become a valuable member of a primary healthcare team. Major changes in the chiropractic field are happening right now due to the Affordable Care Act, with new doors opening for chiropractors as a result.
Don't miss the opportunity to be among the pioneers of this revolutionary change in delivering holistic healthcare.
Presentation Materials
American Chiropractic Association (ACA)
American College of Chiropractic Orthopedists (ACCO)
CTCA
Florida Chiropractic Physician Association (FCPA)
NECC
Neuromusculoskeletal Medicine (NMSM)
Articles
Your Future Starts Today!
Financial aid is available, and we accept applications on a rolling basis.
We have comprehensive support services that will get you through college and into a great career.