Campus Map & Directions
COVID-19 Update: This map shows buildings on campus that have card access entry available, as well as those that have limited access. (Click the map to zoom in.)
Download a Printable Campus Map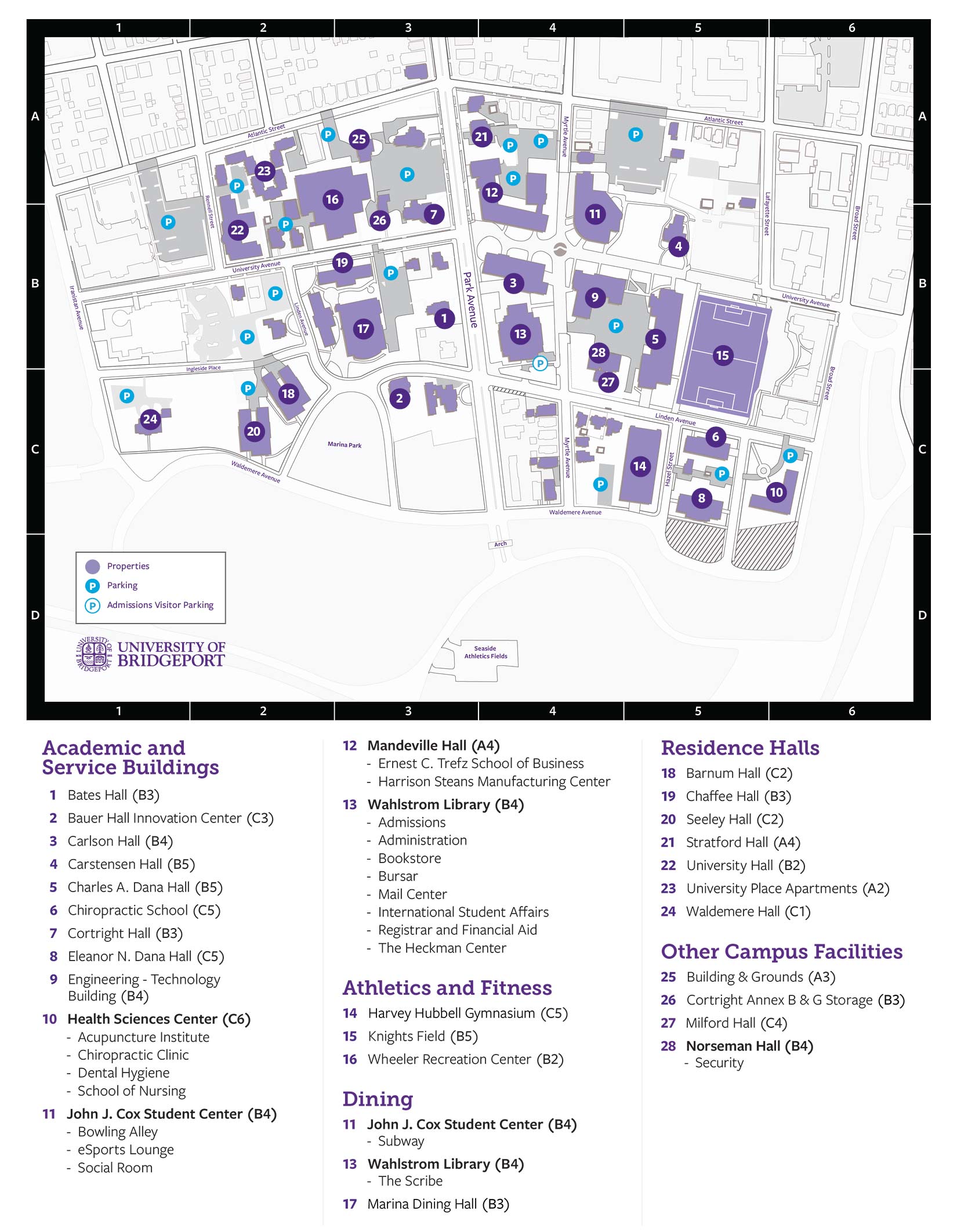 Main Bridgeport Campus
Our 56-acre campus on a gorgeous stretch of Long Island Sound in Bridgeport, Conn., provides an ideal setting for scholarly pursuits. The campus is home to 14 schools, colleges and institutes, 7 residence halls, 4 dining facilities, a bookstore, snack shop, and a student center equipped with pool tables, a café and computer lab, student lounges, and clubs and activities spaces. All of the University's academic offerings are available through the main Bridgeport campus. This includes over 125 degree programs, minors, concentrations, and certificates.
Seaside Park, a 400 acre-park on Long Island Sound adjacent to the campus, offers outstanding outlets for fun on the beach, relaxation, exercise, and outdoor study, and our "Gold Coast" location — just 48 miles northeast of New York City — will enable you to connect with some of the world's leading corporations, hospitals, and organizations.
Directions to the Bridgeport Campus
126 Park Avenue
Bridgeport, CT 06604
Get directions with Google Maps
Waterbury Center
University of Bridgeport's Waterbury Center offers graduate programs in Education and accelerated degree completion programs in Human Services, Psychology and General Studies. The Waterbury Center is conveniently located near Interstate-84 in a modern office park near the Cheshire town line.
Directions to the Waterbury Campus
84 Progress Lane
Waterbury, CT 06705