Knightlines
Knightlines is a magazine for alumni, friends, and supporters of the University. It includes in-depth features, profiles, and campus news and activities. Each issue also features class notes and letters from its readers.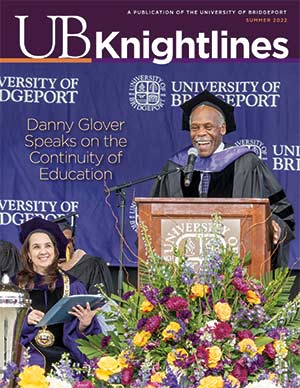 Summer 2022 Issue
Danny Glover Speaks on the Continuity of Education, Faculty Research Day, and more
Get Connected
Did you receive a promotion? Get married? Have work published? Tell us about it! We're interested in what you are doing, and so are your classmates! Don't miss out on Alumni events and UB news! To ensure you are included in mailings and on emails, send us your updated contact information.
Past Issues
Contact Alumni Relations
Wahlstrom Library, 8th floor
126 Park Avenue
Bridgeport, CT 06604
Get Connected