Bridgeport NEXT
Gifts to University of Bridgeport propel the vision of our institution, and unlock new dimensions for the Purple Knights experience. Past gifts to UB include endowed scholarships, fully funded programmatic support, new facilities, and more.
Gifts can be contributed through a variety of means, including cash or check, money transfers, gifts of stock, and more.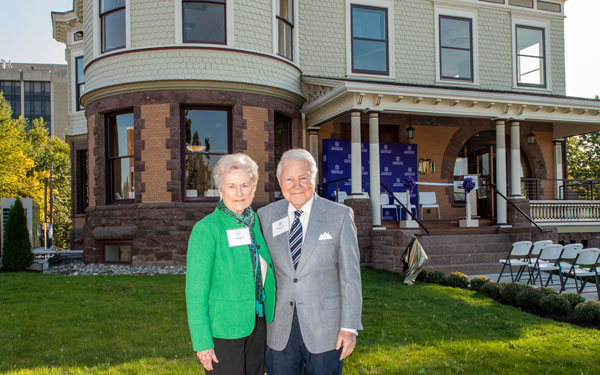 Featured major gift
One of our latest major projects is the Bauer Hall Innovation Center. The Center was made possible through a generous gift from principal donors George and Carol Bauer and an additional gift from UB Trustee Mike Kolakowski. The Bauers are local philanthropists, dedicated to paying their success forward, whose projects in higher education and health care are transformative and life-changing.
Giving societies
Become a leader in our donor community by making an annual commitment of $500 or more. Our society members receive access to a new level of insight at UB with exclusive monthly communications and our annual report, along with invitations and recognition at events like the President's holiday party and our Distinguished Alumni Awards Dinner.
Due to COVID-19, some of our events have been changed or postponed.
The GOLD Circle
$500 - $999
Founders Society
$1,000 - $4,999
1927 Society
$5,000 - $9,999
Waldemere Club
$10,000 or more
Contact Advancement
Bates Hall
135 Park Avenue
Bridgeport, CT 06604
Make a Gift