Doctor of Chiropractic Degree Program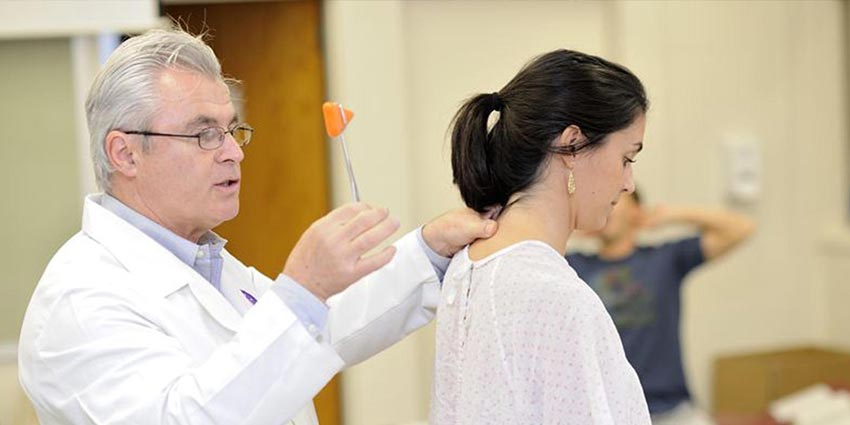 Advance Your Career in Healthcare With Our Doctor of Chiropractic Degree.
With a Doctor of Chiropractic degree, you'll become a trusted primary healthcare practitioner with a focus on providing patient-centered care. Our Doctor of Chiropractic program helps you make a meaningful difference in your community by using holistic, evidence-based methods to rehabilitate the human body and reduce patient discomfort. At UB, we'll prepare you for a rewarding career in an in-demand field and give you the tools you need to change your life and the lives of others.
University of Bridgeport's School of Chiropractic (UBSC) was the first university-based Doctor of Chiropractic program in the United States. Since 1991, UBSC's expert faculty have led chiropractic students through hands-on clinical experiences and into meaningful careers in patient care.
The School of Chiropractic Model of Healthcare
At UBSC, we are committed to providing evidence-based, patient-focused care. Our faculty prioritizes open communication between patients and providers to create positive experiences that foster long-term relationships with patients in your care. Our in-depth curriculum emphasizes the human body's natural self-regulating and healing mechanisms. Gain the skills and knowledge you need to care for patients through clinical training opportunities in our state-of-the-art clinic on campus. In developing a deep understanding of the relationship between the structure and function of different bodily systems, you'll create management plans designed to reduce pain and prevent recurring health-related issues in patients in all stages of life.
Learn from UB's Expert Faculty
Our Doctor of Chiropractic degree program is taught by expert faculty and experienced healthcare professionals dedicated to giving you the support you need. An 8:1 student-to-faculty ratio ensures the attention and hands-on instruction you need to succeed in the program and your career. UBSC admits students twice per year, in January and August. The 18-week semester-based program offers you flexibility and works with your busy schedule.
Gain Hands-On Experience in UB's Chiropractic Clinic
In your senior year in the School of Chiropractic, you'll provide direct care to patients at UB's Chiropractic clinic — working alongside UB's Acupuncture and Dental Hygiene students providing much-needed care to patients from surrounding communities. UBSC students have access to our state-of-the-art Human Performance and Biomechanics lab, where you can work directly with athletes from UB's NCAA Division II sports teams.
Each semester, select UBSC students participate in rotations and externships at two regional Veterans Administration Hospitals. If selected, you'll assist in providing chiropractic care to veterans. The unmatched clinical training opportunities available to UB Chiropractic students will set you up for career success.
At UB, I developed and matured as a student, a person, and a practitioner. I am grateful for all the experiences I've gathered over the years. I look forward to applying everything I have learned in my career!
Accreditation
The Doctor of Chiropractic degree program at University of Bridgeport is awarded programmatic accreditation by:
The Council on Chiropractic Education
Address

8049 North 85th Way, Scottsdale, AZ, 85258-4321

Phone

(480) 443-8877

Website

www.cce-usa.org
The School of Chiropractic (UBSC) received initial accreditation from The Council on Chiropractic Education in 1994 and is accredited through 2026.
UBSC is also a member of the Association of Chiropractic Colleges.
Your Future Starts Today!
Financial aid is available, and we accept applications on a rolling basis.
We have comprehensive support services that will get you through college and into a great career.