Business Administration Associate Degree Program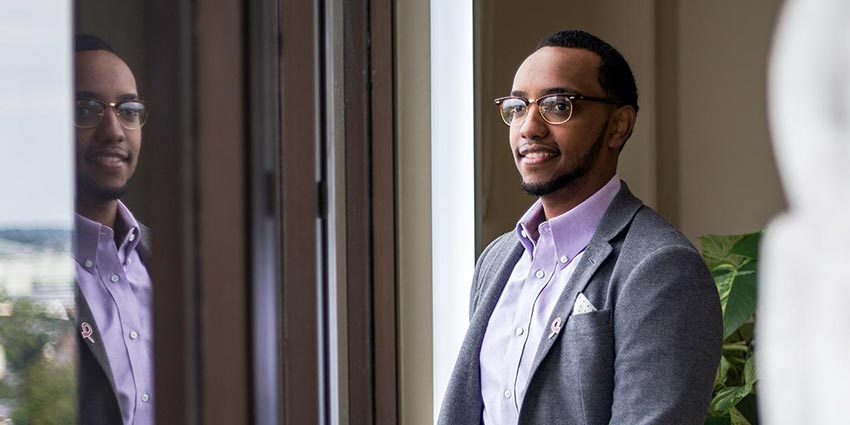 Build Something for Your Future With an Associate Degree in Business Administration
Now, more than ever, we need business leaders and entrepreneurs looking toward the future. Today's business students are tomorrow's innovators and problem solvers. The Business Administration associate degree program at UB empowers you with skills and knowledge for success in any business setting. Whether you want to build something from the ground up or join an existing business, at UB, you'll have access to the resources and industry expertise you need to reach your career goals.
Do Better Business in the Ernest C. Trefz School of Business
At UB's Ernest C. Trefz School of Business, classes are taught by experts. You'll collaborate with executive leaders, lawyers, entrepreneurs, and finance officers. Their diverse backgrounds and teaching strategies will prepare you to understand the realities of running businesses of all sizes in any economy.
Turn Your Ideas Into a Business Ready for Success at the Bauer Hall Innovation Center
At UB's Bauer Hall Innovation Center, you can immerse yourself in a creative and entrepreneurial environment to advance your education and ideas. You'll have access to a podcast studio, maker space, conference and presentation rooms, a student lounge, workstations, and collaborative brainstorming booths. Several business clubs and organizations use the Innovation Center as a meeting space to take their businesses from the concept phase to ready for market. You can join the Student Entrepreneur Center Club and the Technology Commercialization Group or work with local businesses in the Bridgeport Accelerator Program.
Develop the Necessary Soft Skills To Lead a Successful Business
In addition to your core business classes, you'll grow your skills in collaboration, communication, creativity, time management, and problem-solving while taking courses in humanities, mathematics, and the natural and social sciences. Developing these soft skills is critical to a successful career in all areas of business administration.
With an associate degree in Business Administration, you can meet your career goals in just two years while taking advantage of the tools and resources available to you in the Ernest C. Trefz School of Business or continue your education with a BS in Business Administration.
UB offers so much. You will have professors that care about your future and are willing to help you connect with the right people. I know what it is like being afraid to go away for school, leaving your life behind to start a new one. UB will make you feel at home, and you will always have someone there to support you.
Your Future Starts Today!
Financial aid is available, and we accept applications on a rolling basis.
We have comprehensive support services that will get you through college and into a great career.