Advice for Parents of High School Seniors Applying to College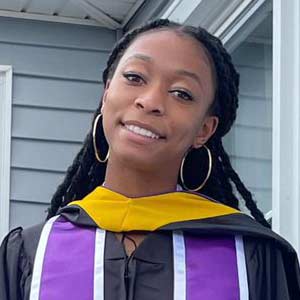 I knew coming in that I wanted to continue my education past my bachelor's degree. So, it was important to me that I didn't graduate with an enormous amount of student debt. By choosing UB, I was able to be financially responsible and be part of an amazing college experience.
After you've narrowed down your search, the next step is applying to colleges and universities.
University of Bridgeport has an 11:1 student-to-faculty ratio. Our faculty bring diverse experiences and approaches to their teaching. Your child will experience individualized attention — each faculty member cares about your student's educational and personal growth.
Before the pandemic, schools were already looking at the inequity placed on students by college entrance exams like the ACT and SAT. The pandemic highlighted those inequities even further, causing many schools across the country to go test-optional for their applicants.
University of Bridgeport remains test-optional for undergraduate admissions. Students not submitting ACT or SAT scores must submit a personal essay with their application. The personal essay is optional for students who choose to submit ACT or SAT scores with their application.
Taking the idea of going to college from dream to reality can seem daunting — especially for first-generation college students and their parents. When applying to college, you and your child will submit a Free Application for Federal Student Aid (FAFSA). The FAFSA application helps our Financial Aid department understand your family's finances and assess your child's eligibility for grants and loans.
FASFA applications open on October 1 and must be submitted by March 1. The sooner your student submits the FASFA application, the better.
Four Ways To Help Finance Your Child's College Education
Grants - no repayment required
Scholarships - no repayment required
Student Loans - to be repaid in a variety of ways
Work-study Program - provides your student with a steady paycheck on campus
99% of UB students receive receive grant or scholarship aid. (fall 2021)
Understanding the costs of your child's education is an important part of applying to colleges.
The Overall Cost of Post-Secondary Education Includes
Room and board
Health Insurance
Miscellaneous fees and deposits
To help your family know the approximate costs of attending University of Bridgeport, we've created a Net Price Calculator.
Payment arrangements must be made at least two weeks before classes start each term. Your student's acceptance package will include important deadlines such as UB undergraduate admissions deposit day — usually in the spring before your student's fall semester.
Rolling admission offers you and your student flexibility while you work to figure out their post-secondary plans. Your child can apply to University of Bridgeport at any time — you won't have to wait until after an application deadline to find out if your student is accepted to UB if they apply early in their senior year.
Apply Early Action
Early Action I Deadline: December 1, 2023
Action II Deadline: February 1, 2024
Rolling Admissions after February 1, 2024
Important Financial Aid Deadlines
March 1: FAFSA deadline (application opens October 1)
February 15: Deadline for CT residents to qualify for state funding