Advocacy
Acts of interpersonal violence can be traumatic and may impact many different aspects of a survivor's life. Survivors of interpersonal violence may face challenges navigating complicated criminal justice proceedings and social service systems. University of Bridgeport offers resource and referral information to help survivors navigate these systems and make better informed decisions. All services are free and many are confidential.
The Center for Family Justice
The Center empowers and counsels victims and survivors through emotional support, safety planning, case management services, and advocacy within medical, court, child welfare, and other systems of care through counselors trained and certified specifically in the area of domestic and sexual violence.
Contact:
The Center for Family Justice
753 Fairfield Avenue
Bridgeport, CT
(203) 334-6154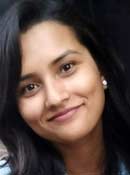 I am the Sexual Violence Campus Advocate with the Center for Family Justice. I received my master's degree in social work from Sacred Heart University. Through my passion for research, journalism, and community organizing, I aim to bring forth visibility and inclusivity in spaces that need social change. I believe creativity is a powerful tool, so for me, healing begins with a deep breath, perhaps to be released on a painted canvas. As an advocate, I seek to amplify and empower the voices of individuals and communities through awareness, education, and community engagement. I'm looking forward to engaging with students on campus, creating opportunities for collaboration, and working with different cultures on campus to create safe pathways for services/healing.
Hospital Accompaniment
When a student chooses to seek medical care at a local hospital, trained advocates meet the victim at the hospital to provide emotional support and to help the victim make informed decisions. Advocates provide supportive and a non-judgmental presence and provide information about additional services and resources.
Criminal Justice System Accompaniment
Survivors can choose to have advocates attend the following events with them:
Law enforcement interviews
Court dates
Sentencing
Information and Referrals
Trained advocates empower victims by helping them make informed choices. They serve as a guide to the criminal justice system, offer support in completing paperwork and are knowledgeable sources of additional resources in the community.
University Student Conduct Process Advocacy
Survivors can choose to have advocates accompany them through the University student conduct process.
To request advocacy services or make a referral, please contact any of the following:
University of Bridgeport Title IX Coordinator, (203) 576-4534, titleix@bridgeport.edu
University of Bridgeport Dean of Students Office, (203) 576-4392, deanofstudents@bridgeport.edu
University of Bridgeport Counseling Services, (203) 576-4454, counselingservices@bridgeport.edu
University of Bridgeport Campus Security, (203) 576-4912, ubsecurity@bridgeport.edu
Center for Family Justice, (203) 334-6154 (main number), hotlines: open 24/7, 365 days a year

Domestic Violence Hotline, (203) 384-9559
Sexual Assault Hotline, (203) 333-2233
Toll free: (888) 999-5545
Vedas (Spanish): (888) 568-8332

Connecticut Sexual Assault Crisis Services, Inc.
Statewide 24-Hour Toll Free Hotline, 1-888-999-5545 (English), 1-888-568-8332 (Español)
Office of Civil Rights Compliance (Title IX)
Cole Simon, Title IX and Equity Coordinator
Carstensen Hall, Room 115
174 University Avenue
Bridgeport, CT 06604
File a Title IX Report
UB's DHSMR Policy