Master's in Business Administration MBA Program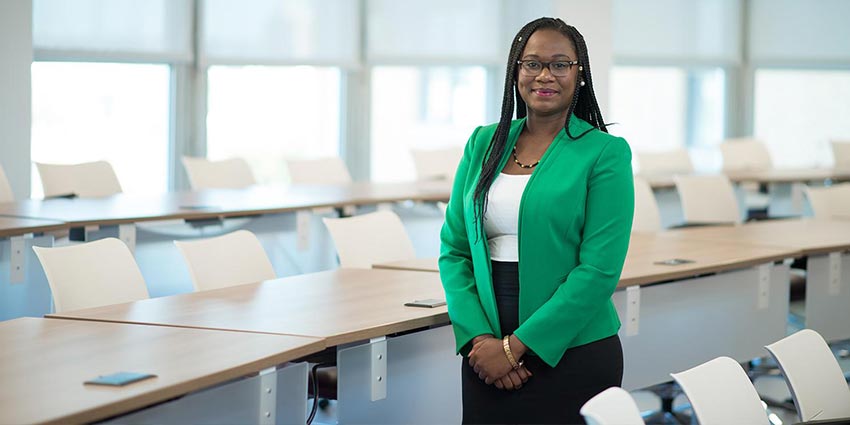 Become an innovative leader by earning your MBA at University of Bridgeport
The world needs more business leaders and entrepreneurs with the leadership skills and creative outlook to bring organizations of all sizes into the future. By earning your MBA at University of Bridgeport, you'll develop the skills and knowledge you need to lead your company into the 21st century. By earning an MBA degree at UB, you'll prepare for a rewarding career in business leadership while studying at the Ernest C. Trefz School of Business, where you will have access to the resources and industry expertise you need to achieve your personal and professional goals.
Advance your career with an MBA
A master's degree in Business Administration will help unlock doors to new opportunities and financial security by allowing you to advance your career. Whether you're looking to switch jobs or move up in your current organization, earning your MBA degree will let you take on leadership roles in which you can expertly guide your organization to meet and exceed its goals. Using innovative skills, you'll develop strategies and solutions while confronting complex business issues whenever and wherever they arise. By completing the MBA program at UB, you'll gain a competitive edge in the marketplace — setting yourself apart from other candidates for promotions and opportunities in leadership and management.
Learn from experts in the field
At UB's Ernest C. Trefz School of Business, classes are taught by expert faculty, including executive business leaders, lawyers, entrepreneurs, and finance experts. Their diverse backgrounds and teaching strategies will prepare you to understand the realities of leading businesses of all sizes in any economy.
Customize your mba to your passions and career interestss
In this program, you can customize your MBA with one of seven concentrations:
Accounting
Analytics Intelligence
Finance
Healthcare Management
Human Resources Management
Management
Marketing
Your Future Starts Today!
Find additional information about the MBA program in the academic catalog.