Master's in Business Administration MBA Program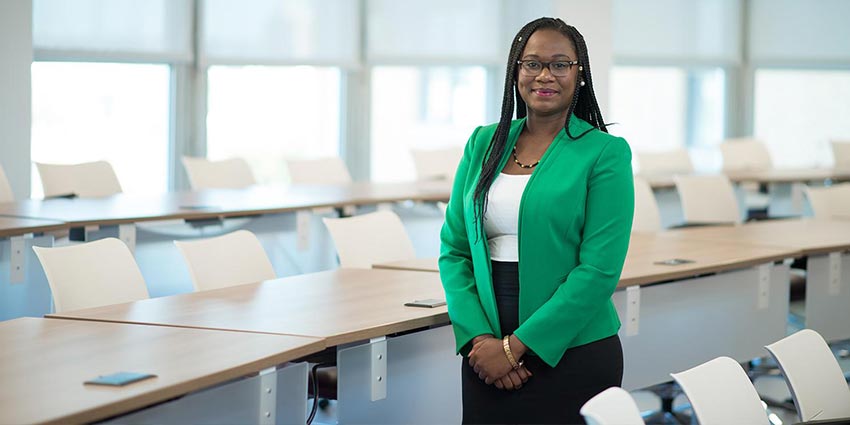 The MBA program at the University of Bridgeport Ernest C. Trefz School of Business prepares you for a successful career in any of seven valuable concentrations, which gives you the freedom to tailor your degree to suit your specific goals. Our flexible start dates and delivery methods – on-campus and online – are ideal for busy professionals.
In today's competitive marketplace, an MBA degree will give you the edge you need in recruitment, promotions and opportunities in management and leadership. An MBA prepares you for a leadership role with highly transferrable skills including problem solving, critical thinking skills, strategic planning, financial acumen, time and people management and much more. We focus on the use of contemporary issues to ensure real-world relevance, that can readily be adapted to professional situations.
UB's strong network of faculty, alumni, and industry leaders helps connect you to job opportunities and advancement. Our professors offer real-world experience from a wide range of business sectors and are well versed in real-world application of theory. They also provide individual support and mentoring to students.
UB's Close proximity to multinational corporations and regional businesses in Connecticut, New York, and throughout the area, provides unmatched resources for networking and internship training.
Concentrations
Customize your MBA at UB with one of seven concentrations, representing the most sought-after areas of specialty that employers are looking for today.
The MBA in Human Resources Management prepares students for leadership in a multi-cultural workplace. The program provides the knowledge needed for the practice of human resources management and seeks to instill ethical managers who understand the strategic importance of human resources.
Students learn the knowledge and skills that prepare them to plan, build, and run a successful business enterprise. Students also learn how to lead and work effectively with people within an organization.
Students are prepared for marketing careers and specifically learn the knowledge and skills that are required to create, promote, distribute, price and manage products, services and ideas to customers in a satisfying exchange relationship. Students develop an understanding of human behavior related to marketing activity.
---
Learning Outcomes
As a graduate of the MBA program you will:
Demonstrate well-developed knowledge in all - and mastery in at least one - of the basic business disciplines (accounting, finance, human resources, information systems, management, and marketing).
Communicate ideas clearly and persuasively in oral and written structures in both formal and informal settings.
Contribute within diverse sets of teams and build internal and external relationships that facilitate success in contemporary organizations via interpersonal and professional skills.
Apply information literacy, proficiency with technology, and analytical techniques for decision-making.
Address current issues and case studies using creativity and innovation.
Act with integrity as an individual, and apply ethical theories, such as triple bottom line and corporate social responsibility, to contemporary organizational issues.
Think critically and logically via integrating concepts across disciplines thereby enabling them to successfully lead in a dynamic global environment.
Why UB?
Receive individual attention
Engage in highly interactive classroom discussions with international students and faculty
Learn relevant quantitative methods and professional interpersonal skills in technology enabled classrooms
Be taught by renowned scholars and highly successful practitioners
Compete against world-class universities in team competitions
Collaborate in multidisciplinary classes with other UB schools
Enjoy close proximity to New York/Connecticut/New Jersey multinational corporations and entrepreneurs
Your Future Starts Today!
Financial aid is available, and we accept applications on a rolling basis.
We have comprehensive support services that will get you through college and into a great career.