University Hall
40 Rennell Street
Bridgeport, CT 06604
Eligible students: Double rooms are available to undergraduate students with more than 60 credits. Suites are available to undergraduate students with more than 90 credits, or graduate students.
Number of residents: 226 (approximately)
Featured Living Community: Upperclassmen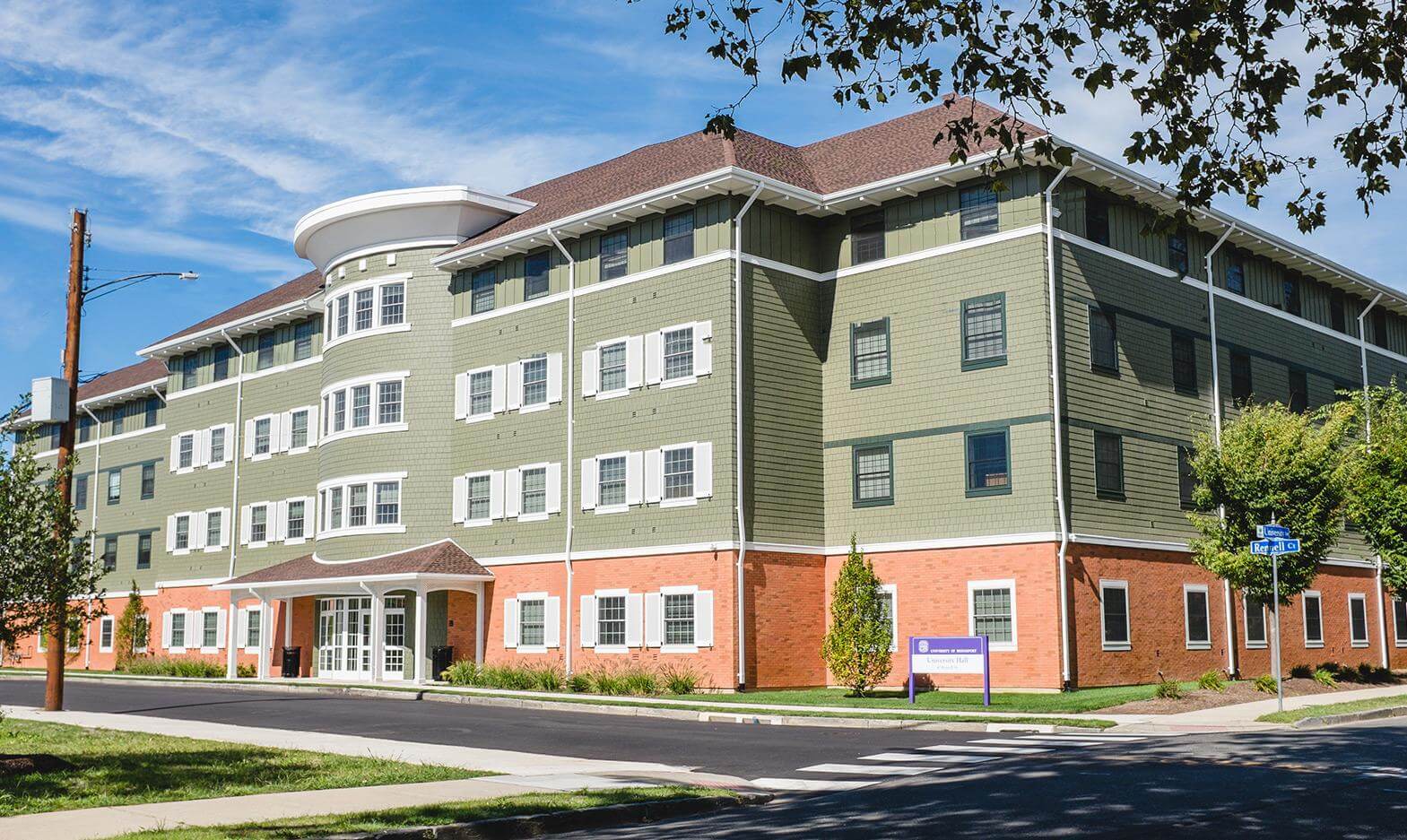 University Hall was designed by Antinozzi Associates of Bridgeport to embraces the context of the local architecture. This design allows it to blend seamlessly with the many private homes on campus that were built during the industrial era of the late 19th and early 20th centuries. Suggestive of a resort hotel similar to those of Bar Harbor, Maine, the residence hall features steeply-pitched hip roofs with wide overhangs shelter a facade comprised of forest green board, batten siding, and wood shakes above a terracotta masonry base. The façade is punctuated by a curved bay window with a front porch that welcomes students home to an entrance lobby decorated in a theme that extends Victorian flair to the exterior design. Construction by KBE Construction Company of New Britain, Connecticut began in May of 2015 and was completed for the Fall 2016 semester.
Building Amenities
Two housing styles:

Traditional double
Suites featuring single bedrooms, private bathrooms, a full living room, and kitchen

Community area with a TV lounge and recreation equipment per floor
First floor featuring:

Study room
Laundry room
Modern conference room for small group work
Community kitchen
Large activity room for large-scale programs and events

Air-conditioning
WiFi
Secured entrance with cameras
Smoke detectors with voice evacuation systems
Room Amenities
Micro fridge unit (combination of a fridge/freezer/microwave)
Each student receives a:

Closet
Dresser
Bed
Desk
Chair
Staff
University Hall's staff consists of seven Resident Assistants (RA) who are supervised by a Resident Director (RD). The staff's goal is to integrate both an academic and residential approach to the hall community as well as assist the residents in their educational, social, cultural, and personal growth. The staff is to be used as a resource in a collaborative approach with residents to assist with the challenges of their new surroundings as well as to create a positive and academically-centered community atmosphere. Residents of University Hall are expected to contribute and respect others in the hall community.
Living Community
University Hall offers traditional style housing (double rooms) including community bathrooms on each floor with a laundry room and kitchen on the 1st floor. Students living in double rooms in University Hall must have a minimum of 30 credits.
University Hall offers limited space in suites. Each suite includes a living room, with couches, and a full kitchen along with four (4) single bedrooms. Students living in a suite in University Hall must have a minimum of 90 credits or be a graduate student.
Academic Excellence – Students must participate in formal study group sessions and engage in programs offered to promote academic success as they transition to prepare for graduation.