Bachelor's Degree in Sport Management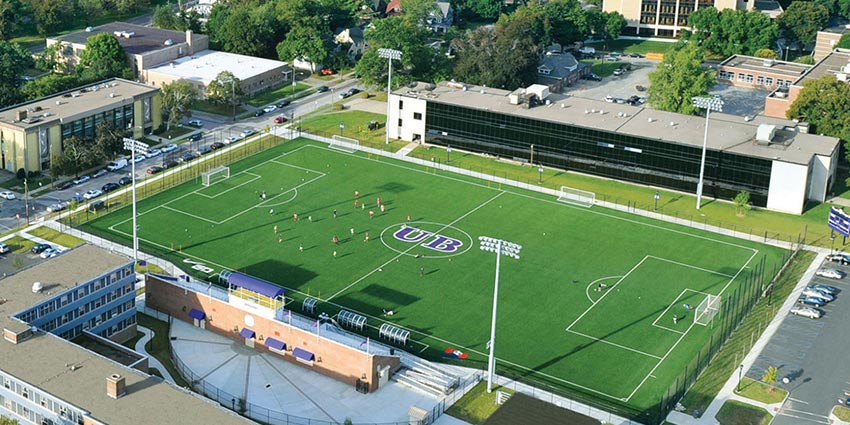 Start your journey to a successful career with a Bachelor's Degree in Sport Management from University of Bridgeport.
Are you looking for a career that is exciting and immerses you in the world of sports? If yes, pursuing a sport management major may be the perfect fit for you. The world of professional sports is a multi-billion dollar industry, expanding every year. The Bachelor's Degree in Sport Management prepares graduates for careers in athlete management, team branding, sports marketing, and more.
Turn your passion for sports into a profession.
Receiving a sport management degree from UB provides you with a comprehensive curriculum that includes legal, ethics, finance, event management, and psychology for the sports industry, as well as a business core with courses in accounting, marketing, and economics. Our program will prepare you for a rewarding career that allows you the opportunity to grow in the field of sports management.
Learning Outcomes
Students will learn to:
Explain the application of cultural traditions, social values, and psychological engagement that shape the field of sport management.
Prepare research and interpret data to be used for Sport Marketing, Finances, Operations.
Demonstrate knowledge of the concepts of management and leadership and describe the various skills, roles, and functions of sport managers.
Explain the concepts of ethics and moral behavior as they apply to sport management.
Apply essential marketing concepts to the Sport industry, understand the uniqueness of the sport product and unique aspects of sport consumer and sport product markets.
Apply and evaluate principles of interpersonal communication, mass communications, and public relations, particularly as they are related to sport organizations.
Explain the importance of budget and finance to sport-related industries and evaluate micro- and macro-economic principles as they related to the Sport industry.
Explain legal concepts within the sport workplace, understand basic risk management issues applied to the conduct of sport, and evaluate the role of sport governing bodies including their authorities, organizational structure, and functions.