Concentration in eSports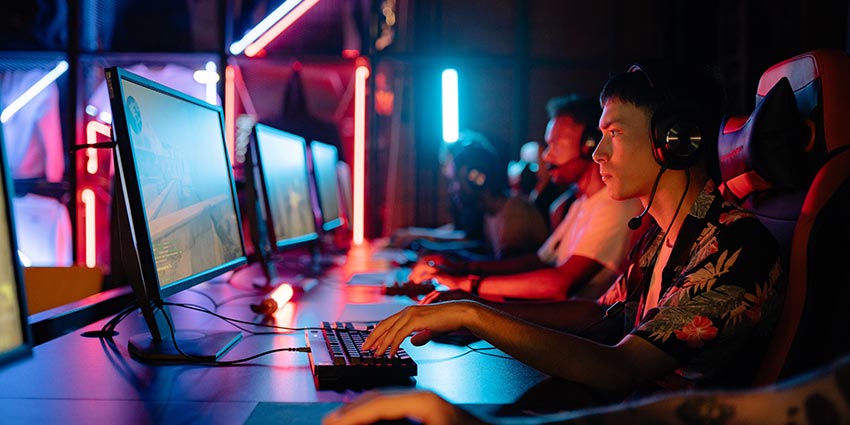 The game is on at University of Bridgeport. Take your gaming and educational experience to the next level with our degree in Sport Management: eSports concentration.
Grab your controller and tune into a groundbreaking opportunity to embark on eSport's multibillion-dollar industry. The bachelor's in Sport Management: eSports degree concentration will enable you to become a future leader in a global industry. You will learn how to lead organizations, people, and yourself in the world of eSports and Gaming, Data Analytics, and Sport Management.
The next generation of gaming is here.
In the eSports program, you will expand your gaming skills in new state-of-the-art eSports lab, have the option to join the eSports club, and compete against students from around the world. UB's diverse demographics of students from over 80 countries will provide you a collaborative team of peers to support you in this program.
Become a business professional and an eSports expert.
This eSports degree program is designed to prepare you for an array of careers in eSports administration and management with interscholastic, intercollegiate and professional eSports event organizers, entrepreneurial eSports ventures and more. The combined education from the Ernest C. Trez School of Business in Sport Marketing and eSports will give you a well-rounded education to become a business professional in the world of eSports and gaming. The specialized eSports courses will prepare you to excel in the industry in various ways. You will explore the financial, legal and ethical practices within eSports and the structure and business involved in eSports. This concentration covers the technology behind video games and provides you with an overview of different hardware components used as well as software packages. You will deep dive into effective broadcasting strategies and the components of media used in eSports including streaming, writing strategies, play-by-play and production. Additionally, the concentration will critically examine the contemporary issues facing the industry of eSports and professional gaming.
Your Future Starts Today!
Financial aid is available, and we accept applications on a rolling basis.
We have comprehensive support services that will get you through college and into a great career.