Master's in Mechanical Engineering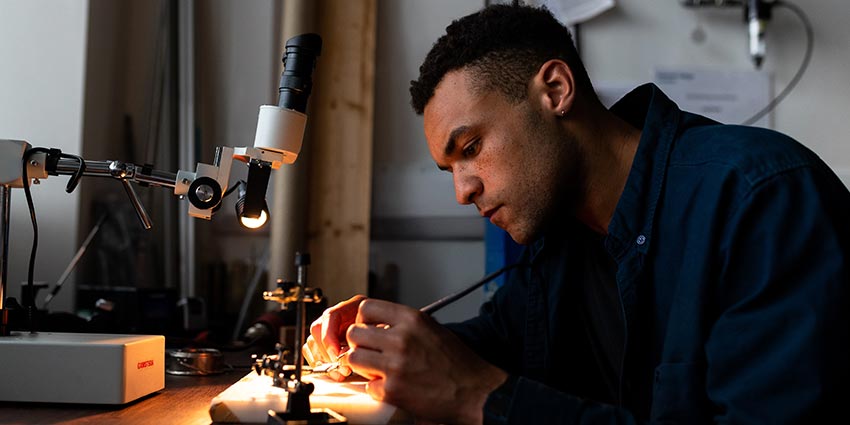 The master's in Mechanical Engineering degree program prepares the student for a successful professional career through advanced study in design, development, analysis, manufacturing, and maintenance of mechanical systems for a wide range of industries, including transportation, automation, medical, energy generation, electronic, sports and aerospace.
The Mechanical Engineering master's degree program combines core mechanical engineering courses with technical electives that enable the student to increase his/her knowledge and competence in essential skills for Mechanical Engineering while affording sufficient freedom to provide in-depth study in both traditional and contemporary curriculum tracks and explore emerging interdisciplinary areas.
The technical areas supported by the department include General Mechanical Engineering, Design Engineering, Manufacturing Engineering and Management, Mechanics and Materials, Thermal Fluid Systems and Sustainable Energy, Biomechanical Engineering, Mechatronics and Automation, and Sports and Aeronautical Engineering. The student is required to design an individualized program of study with the help and approval of his/her faculty advisor to meet his/her academic and career goals.
Customized study plans also allow receiving the MS in Mechanical Engineering degree while pursuing another M.S. degree in Computer Science, Computer Engineering, Electrical Engineering, Technology Management, and MBA. Two degree students in these two programs should consult their respective advisors to work on their individualized plans.
The department is the home of the CNC Mini Milling Machine Laboratory, Computer Aided Engineering and Rapid Prototyping Laboratory, the Applied Computational Fluid Dynamics Laboratory, and the Electronics Thermal Management Laboratory. Students can also access the other laboratories in the School of Engineering. Some classes are taught by adjunct faculty from local industries and faculty from other engineering departments at UB.
STEM and OPT
The MS degrees offered by the School of Engineering at the University of Bridgeport are classified by ICE (US Immigration and Customs Enforcement) as STEM (Science, Technology, Engineering and Math) degrees. Therefore, all International Students who earn an MS degree are eligible for twelve (12) months of OPT (Optional Practical Training) and at the end of the twelve months of OPT, the student and the company the student works for, can apply for an extension of twenty-four (24) additional months of work, as long as the company is an E-verify company. In summary, a graduate with an MS degree can work under OPT in the USA for a total of thirty-six (36) months.
For more information, visit International Student Services.
Financial Stipends and Scholarships
The following Financial Stipends and Scholarships are available for qualified student applicants. For more information, please refer to Cost and Financial Aid.
(A) Graduate Merit Award
University of Bridgeport offers a Merit Scholarship to help deserving students meet their financial obligations of pursuing a graduate degree.
(B) Graduate Assistantships, Research Assistantships, and Student Employment
Graduate Assistantships, Research Assistantships, and Student Workers employment are also available for qualified students. For more information, please refer to Student Employment.
Your Future Starts Today!
Financial aid is available, and we accept applications on a rolling basis.
We have comprehensive support services that will get you through college and into a great career.