Bachelor's in Mechanical Engineering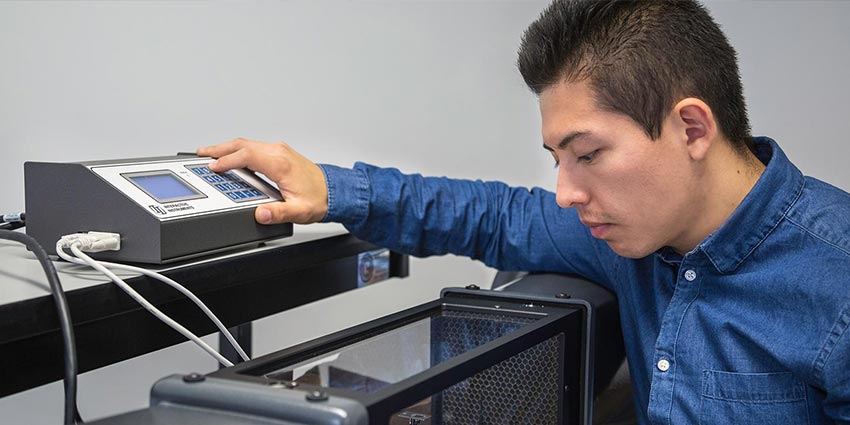 Earn a Degree That Will Set Your Career in Motion.
Interested in entering cutting-edge fields such as aerospace, biomedical, or manufacturing? When you earn your Mechanical Engineering degree at UB, you'll secure your spot in one of the industry's most rapidly evolving fields. Prepare for a rewarding career by learning the fundamentals of engineering, the basics of computer-aided design tools, and more. You'll focus on lab and project experiences to gain the knowledge necessary to pursue graduate studies or launch directly into your mechanical engineering career.
Build a Foundation for Success.
At UB, you'll be introduced to fundamental concepts such as computer-aided engineering tools, communication skills, and manufacturing processes, which will give you a solid foundation on which to build your career. As you progress through the program, you'll apply the principles of motion, force, and energy to the design, development, manufacturing, testing and maintenance of mechanical systems. Graduates from UB's Bachelor's in Mechanical Engineering program go on to have rewarding careers in a wide range of industries, including aerospace, automotive, biomedical, chemical, electronics, robotics, sports, and more!
Engage in Meaningful Collaboration.
At UB, you'll engage in hands-on experimentation and learn how to function effectively on a team while creating a collaborative and inclusive environment. You'll establish goals, plan tasks, and meet objectives to simulate real-world team dynamics. There is also a wide array of on-campus clubs and societies that will give you the opportunity to connect with other students who have similar passions and pursue your interests outside of the traditional classroom.
Sharpen Your Problem-Solving Skills.
Effective problem-solving is at the heart of Mechanical Engineering, and at UB, we are committed to helping you develop those skills. Our expert faculty use project-based learning to simulate real-world scenarios, giving you the opportunity to come up with meaningful solutions to industry problems. You'll gain the experience needed to contribute to advancements in the field and utilize your creativity to spark new developments in mechanical systems.
Take Advantage of Our BS to MS Accelerated Degree Program.
This program allows you to complete your bachelor's and master's degrees in just five years of study. Not only will you develop expertise in fundamental and emerging disciplines of engineering, but you'll be able to progress more quickly through your coursework by taking additional credits for several semesters, leading you to a fast-tracked, rewarding career in engineering.
Become Career-Ready with a Bachelor's Degree from University of Bridgeport.
In addition to your core classes, you'll grow skills in collaboration, communication, creativity, time management, and problem-solving while taking courses in humanities, mathematics, and the natural and social sciences. Developing these soft skills is critical to a successful career in all areas of mechanical engineering.
---
Possible career paths include:
Aerospace
Automation
Energy & Sustainability
HVAC
Instrumentation
Manufacturing
Mechanical Design
Packaging
R&D
Reliability
Testing
Tooling
And more!
Your Future Starts Today!
Financial aid is available, and we accept applications on a rolling basis.
We have comprehensive support services that will get you through college and into a great career.