Master's in Teacher Leadership Online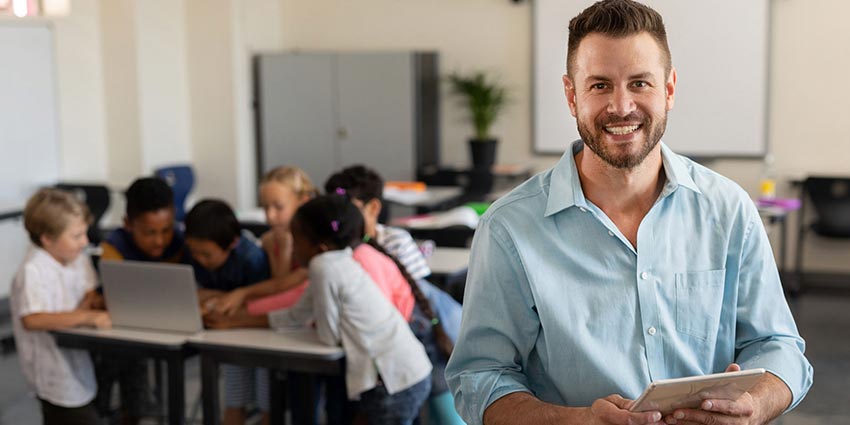 Take your career to the next level with an online M.Ed. in Teacher Leadership
Our master's in Teacher Leadership degree program is designed for creative and analytical advocates and educators just like you. You will develop the skills, techniques, and experience to increase access to learning by reducing and removing physical, cognitive, intellectual, and organizational barriers for your students.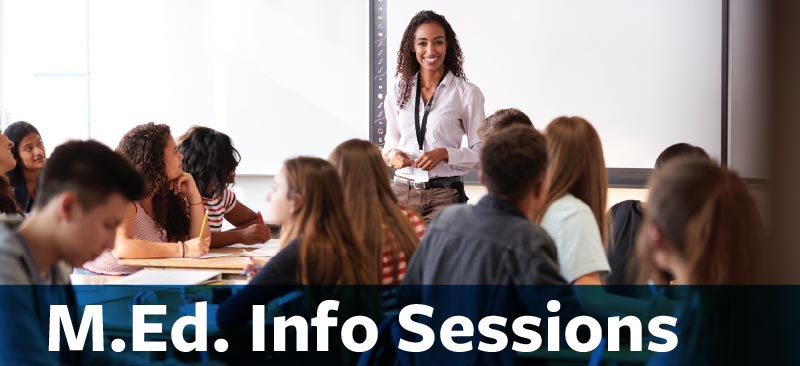 Take your teaching career to the next level with an M.Ed. degree. Attend one of these info sessions to learn more about our M.Ed. program.
All sessions are held on Mondays at 5:30 p.m. EST
---
The benefits of two universities
This is a joint program offered by Goodwin University and University of Bridgeport. You will learn alongside fellow students from both universities and share experiences in a richly diverse learning environment. Upon completion, your master's degree will list both universities.
In our M.Ed. in Teacher Leadership program, you will learn how to apply the Universal Design for Learning (UDL) framework to proactively design capacity-building learning experiences. Within UDL, learner variability, whether visible or invisible, is seen as an asset. Based in cognitive neuroscience, UDL focuses on designing with variability in mind and removing barriers to learning by frontloading flexible options for engaging learners, teaching important concepts, and building goal-directed learners. In your coursework, you will experience the UDL framework firsthand as program faculty model the principles and actively engage you in applying UDL in your own practice.
Our supports take you from driven student to sought-after teacher.
When you become a part of the University of Bridgeport community, you get the student support you deserve. This program's cohort model emphasizes a collaborative classroom where professors are mentors, providing creative and memorable in-the-moment coaching. You will also have access to a dedicated librarian for graduate students, online workshops, and exclusive graduate writing liaisons who provide tailored instruction and guidance. The Career Services team is also available to you during the program and long after graduation with career counseling, resources, workshops, and networking opportunities.
Finish your master's degree on a teacher's timeline.
Our flexible, 30-credit program is entirely online, an optimal fit for those who teach full-time or care for their families. Up to 6 credits can be granted to students entering the program from prior learning as part of the Alternative Route to Certification. Students will be able to complete the remaining credits in as few as 15 months part-time*.

*Program length may vary by individual
Tuition for our 30-credit Master of Education (M.Ed.) program is competitive with other private non-profit colleges in CT.
$660 PER CREDIT
100% Online
---
No GRE Required
---
Complete in as little as 15 months*
---
For more information, contact:
Your Future Starts Today!
Financial aid is available, and we accept applications on a rolling basis.
We have comprehensive support services that will get you through college and into a great career.