Doctor of Health Sciences Online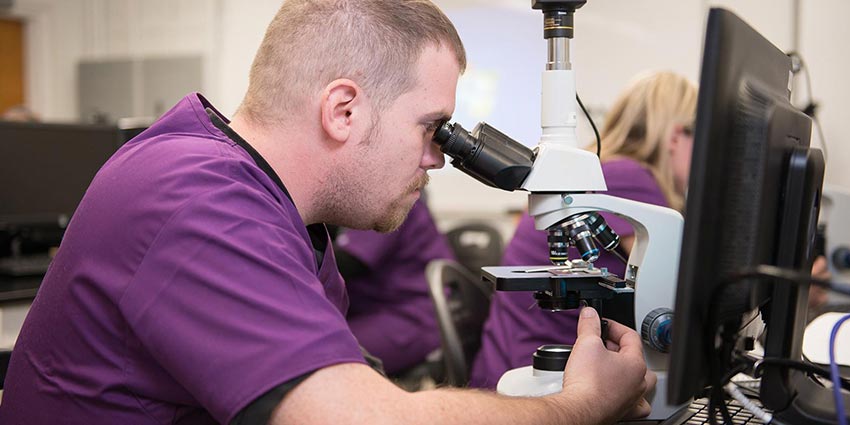 Specialize in Evidence-Based Care and Healthcare Policy with an Online Doctor of Health Sciences Degree.
Every day, healthcare leaders work to address public health concerns by training and guiding community healthcare professionals to meet the needs of our most underserved populations. With a doctorate in Health Sciences, you'll have a career where you solve public health problems and influence healthcare policy through research-backed decision-making. Graduates of UB's online Doctor of Health Sciences degree go on to affect public health at local, state, and federal levels.
Become a Trusted Leader by Earning Your DHSc.
By earning your Doctor of Health Sciences degree, you'll develop the skills and experience needed to lead healthcare centers, write public health policy, and educate future public health professionals at the college level. In UB's online DHSc program, you'll learn from expert clinicians, healthcare providers, and public health professionals. In your classes, you'll collaborate with fellow healthcare professionals looking to gain an in-depth understanding of best practices in all areas of public healthcare and public health policy. With your doctorate in Health Sciences, you will deepen your skills in clinical practice and healthcare education, administration, and research. In this program, you can choose from one of three healthcare concentrations:
Clinician track

Nutrition track

Education track
For your dissertation, you will choose your area of interest, and once approved, you will work with your dissertation committee advisor to conduct either original research, a literature review, a meta-analysis, or a systemic review.
Since starting my DHSc., it has been my dream to work in community health. I wanted to work with underserved, underinsured, uninsured, and undocumented women. I faced these obstacles early in life and always wanted to give back. Thanks to my complete UB education, I can hold this position and live out my dream of working with this population. UB prepared me with the tools necessary to be a knowledgeable healthcare leader. The classes in the DHSc. curriculum were relevant, fun, and challenging, and the professors are leaders in the field. I gained a better understanding of public health policies, population health, and the ins and outs of leading community health programming. All things that I am doing today in my day-to-day job. Thank you, UB, for paving the way for me to make my professional dreams come true!
A Program Designed for Your Busy Life.
In this flexible degree program, all your coursework is completed entirely online, including your four-week online doctoral residency. We understand you're a busy working professional. By earning your Doctor of Health Sciences online, you'll be able to continue working while advancing your career in the Health Sciences.
We offer three start dates per year — spring, fall, and summer. At UB, you can earn your doctorate in just over three years!
Your Future Starts Today!
Financial aid is available, and we accept applications on a rolling basis.
We have comprehensive support services that will get you through college and into a great career.