Bachelor's Degree in Health Science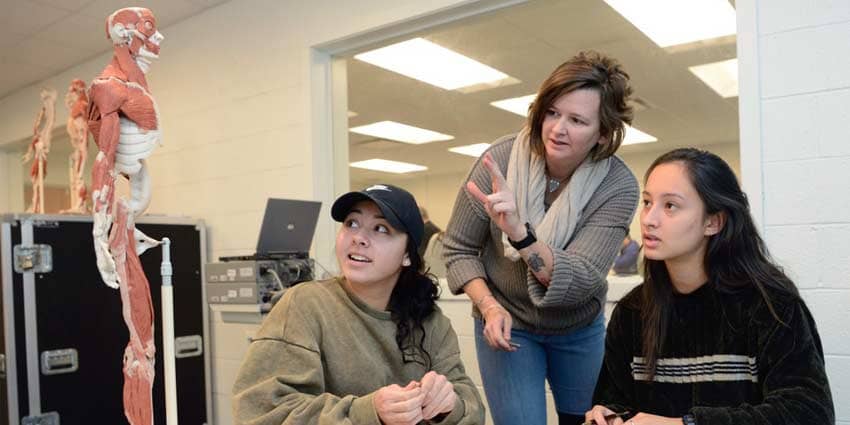 Work Toward a Career Helping Others With a Bachelor's Degree in Health Sciences
Health sciences professionals go into work every day ready to meet one of our most pressing health challenges — providing adequate healthcare to a growing and aging population. Graduates of UB's Health Sciences program work in healthcare centers, hospitals, health departments, private companies, and more. With a bachelor's degree in Health Sciences, you'll develop a deep understanding of biostatistics, research, and epidemiology.
Below you'll find more information about University of Bridgeport's four Health Sciences degree concentrations:
Community Health Education Track
This track prepares you for a career promoting and protecting the health of our most underserved communities. With a career in community health, you'll provide health and disease prevention education through direct care and community outreach. Graduates from UB's Community Health Education track go on to have rewarding careers providing patient care and influencing health policy.
Exercise and Fitness Track
In this program, you'll develop the skills and knowledge needed to create appropriate fitness programs for people of all ages. Graduates from UB's Exercise and Fitness track go on to have rewarding careers as personal trainers, health educators, fitness instructors, physical therapy assistants, and more!
Nutrition Track
In this track, you'll develop a deep understanding of the science behind nutrition. You'll gain the knowledge and skills to analyze people's health choices and educate diverse populations on the relationship between nutrition and health. Graduates of UB's Nutrition track go on to have rewarding careers as nutritionists and dieticians in inpatient and outpatient healthcare settings.
Pre-Professional Track
The Pre-Professional track prepares you to continue your education by obtaining your graduate degree in the field. In this program, you'll understand and analyze the factors influencing people's health. University of Bridgeport offers several pathways for Health Sciences graduates to continue their education as graduate students in the College of Health Sciences.
Become Career Ready With a Health Science Degree From University of Bridgeport
In addition to your core classes, you'll grow skills in collaboration, communication, creativity, time management, and problem-solving while taking courses in humanities, mathematics, and the natural and social sciences. Developing these soft skills is critical to a successful career in all areas of health services.
One thing that made UB stand out to me was its affordability. I knew coming in that I wanted to continue my education past my bachelor's degree. So, it was important to me that I didn't graduate with an enormous amount of student debt. By choosing UB, I was able to be financially responsible and be part of an amazing college experience.
Your Future Starts Today!
Financial aid is available, and we accept applications on a rolling basis.
We have comprehensive support services that will get you through college and into a great career.