Bachelor's Degree in Health Science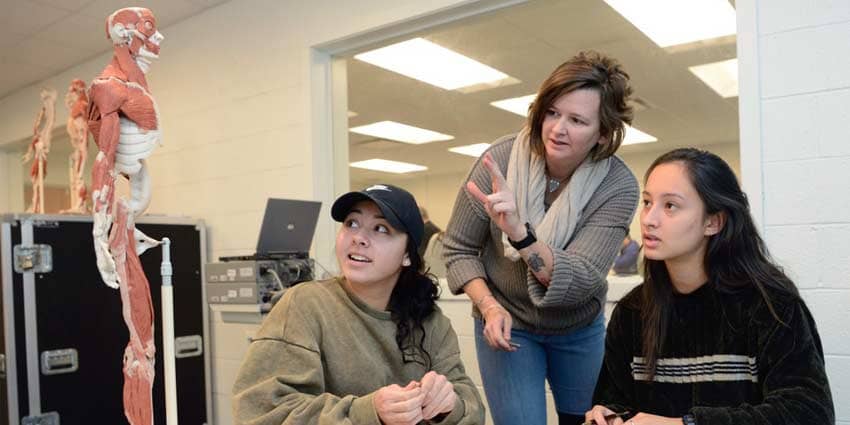 Providing adequate healthcare to the growing and aging population—one of the most pressing challenges of the twenty-first century—is addressed by the BS in Health Sciences program.
The degree program builds upon a common foundation, consisting of courses in general education, biology, chemistry, and health sciences such as medical terminology, biostatistics, research, and epidemiology. Students select from one of four areas of concentrations: community health education, exercise and fitness, nutrition, or pre-professional.
Program graduates will work in healthcare settings at the entry level or seek additional education in a healthcare or related profession.
Learning Outcomes
As a result of completing the Bachelor of Science in Health Sciences, graduates will be able to apply principles of health and wellness as a lifelong process of learning grounded in the study of basic sciences and the behavioral arts. The students will:
Understand fundamental biological, chemical, and physical properties underlying life systems
Be able to gather and analyze research data and make inferences based on the data
Be aware of professional, ethical, and privacy issues that are pertinent to careers in the health sciences
In addition:
Exercise and Fitness students will understand the relationship between exercise and wellness maintenance and be skilled at developing appropriate fitness programs for diverse populations.
Nutrition students will understand the principles of human nutrition and the relationship to health and wellness using evidence-based strategies.
Community Health Education students will understand principles to help people assume more responsibility for their health and well being through educational development, implementation and evaluation of community health programs.
Pre-Professional students will be broadly prepared to enter professional schools and to successfully meet school admissions criteria.