Finance MS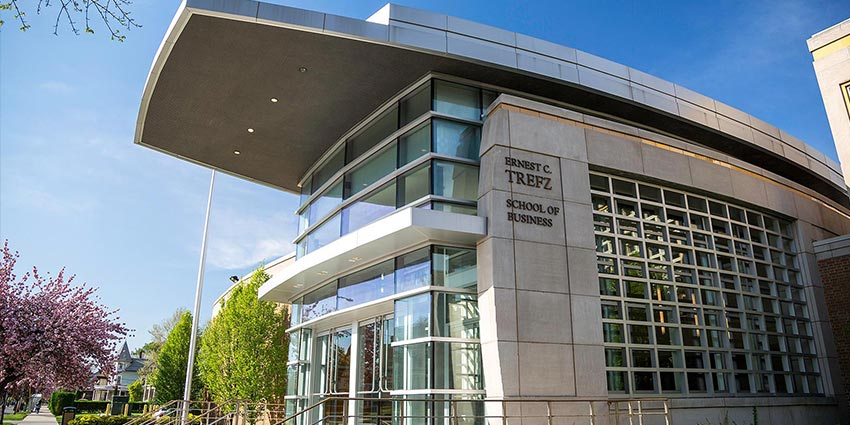 Develop the technical skills required for specialist and management roles in financial enterprise by completing our Master of Science in Finance degree program at UB's Ernest C. Trefz School of Business. This highly specialized degree will focus exclusively on issues related to finance, economics, and money markets. We will introduce you to modern concepts, such as financial regulation and behavioral finance, that play a critical role in today's marketplace.
Learning Outcomes
Students will integrate the knowledge and skills they have gained throughout the Master of Science in Finance degree program to develop and evaluate financial and risk management strategies by:
Technical
Demonstrating an understanding of concepts learned throughout their graduate program
Testing a hypothesis or market strategy through robust historical evaluation
Using research methods and instruments to price assets, evaluate risk, and manage portfolios
Explain and differentiate standard financial models and their assumptions
Human
Communicating complicated information at a professional level using appropriate acumen
Demonstrating initiative, discipline, and follow-through on assignments
Facilitating meaningful dialogue and reasoned disagreements related to class topics and current financial events
Conceptual
Evaluating the advantages and disadvantages associated with evolving regulatory environments
Analyzing organizational decisions relating to risk management and financial practice
Applying the theories and techniques learned throughout the graduate finance program
---
Why UB?
STEM designated program
Ability to complete your degree as an add-on to our MBA program, in as little as two additional semesters
Courses taught by award-winning faculty with extensive real-world, professional business experience that combine academic lessons with professional development
Opportunity to gain industry certifications and licensure, including foundation for the Chartered Financial Analyst® (CFA) and Series 7 – General Securities Representative Qualification Examination (GS)
Close proximity to NYC, Stamford, and Greenwich allows for easy access to and internship possibilities at some of the world's most powerful hedge fund, insurance, investment, and banking companies, including 18 on the Fortune 500
Supportive Center for Career Development to help you launch or elevate your finance career
Access to expansive library resources and SMART technology-equipped classrooms
At UB, you will gain the decision-making, problem-solving, and analytical capabilities to solve financial problems, including how to:
Evaluate and price a financial opportunity
Gauge the appropriate level of risk to discount future projections
Compare across investment opportunities at a given time and how to allocate among them in an optimal way
Create useful tools for answering financial questions so that reports can be generated automatically and progress can be tracked
Assess and manage risk
The MS degree in Finance does not have ASBSP accreditation.
Your Future Starts Today!
Financial aid is available, and we accept applications on a rolling basis.
We have comprehensive support services that will get you through college and into a great career.