Associate Degree in Dental Hygiene Program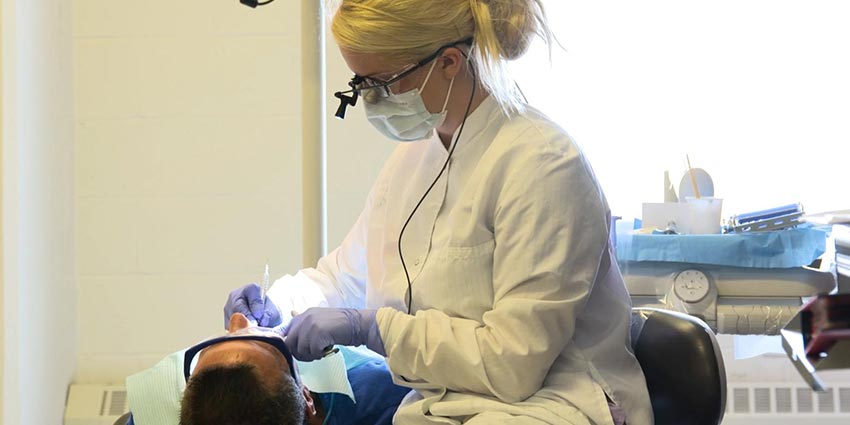 The UB Associate in Dental Hygiene AS degree program combines general education courses with courses from the Fones School of Dental Hygiene to offer a broad educational preparation. In addition to basic and dental science theory, the two-year curriculum provides education in prevention service and dental health education.
Dental Hygiene instruments and supplies are issued through the Fones School. These items are distributed throughout the clinical phase of the curriculum, the costs of which are included in tuition. During the second year, students receive clinical training not only at the Fones Dental Health Center on campus but also through assignments at clinical and educational facilities of school dental health programs, hospitals, and community agencies. These assignments are directly supervised by Fones faculty. Students may be responsible for their own transportation to community agencies. All courses listed for the Associate and/or Bachelor of Science degree are required for graduation. Dental Hygiene students must earn a grade of "C" in all major courses. Any student who receives a grade of "C-" or below in a course in the major field must obtain a written statement from the Fones School Director specifying the procedure necessary to remedy the deficiency and remain in the major.
Enrollment in the second year is contingent on successfully completing all first year requirements with a cumulative QPR of 2.5. Dental Hygiene clinical courses begin in the fall term. The Associate in Science degree curriculum is open only to full-time Dental Hygiene students. Clinical students are required to submit a physical, dental, and visual acuity report, provide proof of required immunizations and Tuberculin/PPD record, and must maintain certification in cardiopulmonary resuscitation for the Health Care Provider.
All admitted students are subject to a background check conducted by an outside agency. All information is maintained confidentially.
---
Program Goals
The student will:
develop an awareness of health literacy and the responsibilities of health promotion and disease prevention within the profession and the community she/he serves
develop the knowledge and clinical skills necessary to provide comprehensive care to patients/clients
develop a commitment to lifelong learning for professional growth and development
The program will:
Offer high quality evidence-based educational programs that will enhance the awareness, appreciation and utilization of dental hygienists in health care, research, educational and community settings
Prepare graduates who provide and further access to high quality, evidence based, patient-centered dental hygiene care which contributes to the overall health of our patients
Encourage interprofessional collaboration in research and education to focus on the overall well-being of the patient
Prepare graduates who will be leaders in the profession of dental hygiene and are committed to lifelong learning
Prepare graduates to promote the goals and values of the profession
FSDH ascribes to a set of Competencies for student performance in total client care and personal professional development. The competencies identify what the dental hygiene student must be capable of providing during delivery of safe dental hygiene care at an entry-level, or the minimal performance of the new dental hygienist. In order to graduate, the dental hygiene student must demonstrate successful completion of these competencies. Later on in one's career, through experience and continued learning, it is expected that the dental hygienist will become proficient, or eventually, even an expert in the delivery of care.