Associate Degree in Dental Hygiene Program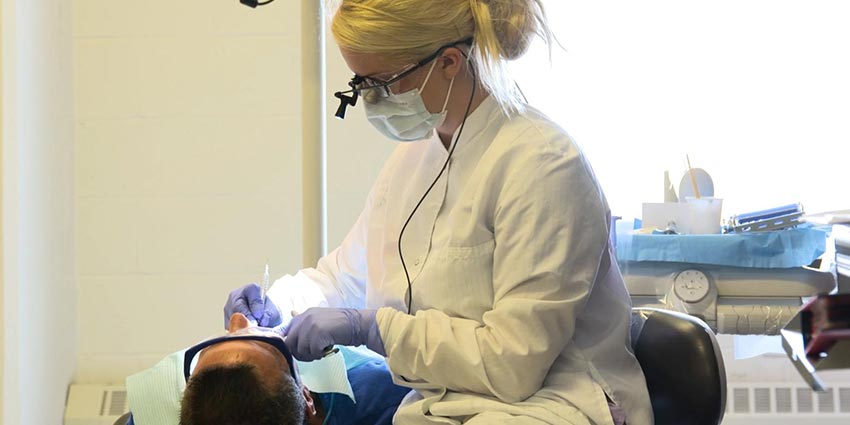 Take the First Step in Your Dental Hygiene Career
Dental Hygienists provide critical services — educating patients on the prevention and treatment of oral disease. Dental Hygienists work in hospitals, private dental clinics, schools, nursing homes, and community health care centers, providing direct care to patients of all ages.
At UB, you can reach your dream career faster with an associate degree in Dental Hygiene. The Pre-Dental program at the University of Bridgeport prepares you with the skills and knowledge you need for a rewarding career in the field.
Develop Interpersonal Skills While Working With UB's Expert Faculty and Your Peers.
During your first year as a Pre-Dental student, you'll grow your skills in collaboration, communication, and time management, while taking courses in humanities, mathematics, and the natural and social sciences. These soft skills will help you provide better patient care as you move into the associate in Dental Hygiene program.
Become a Better Dental Hygienist in UB's Fones School of Dental Hygiene Dental Clinic.
Dental Hygiene is an in-demand field. Dental Hygienists are on the front lines of prevention when it comes to community dental health. During your first semester, you will go into pre-clinic. While in pre-clinic, you and your peers will grow your skills working on each other in UB's state-of-the-art dental clinic. Once you demonstrate competence in pre-clinic, you'll have the opportunity to provide direct care to patients in our dental clinic through programs like Senior Smiles and Give Kids a Smile.
The Fones School of Dental Hygiene
Established in 1949, the Fones School of Dental Hygiene was the first dental hygiene school in the world. You'll learn from clinical professionals and expert faculty in UB's state-of-the-art dental clinic and dental hygiene lab. As you grow your skills, you'll have the opportunity to further your experience with internship opportunities through UB's community partnerships.
Join an In-Demand Field and Prepare for a Meaningful Career in Patient Care.
The demand for dental hygienists is growing. The Bureau of Labor Statistics predicts a faster-than-average increase in dental hygienist jobs by 2031.* At University of Bridgeport, you'll gain the skills and experience you need to secure a career in this in-demand field. You'll work on the front lines of patient care, providing much-needed education and preventative services to people of all ages.
As a dental hygienist, you'll gain the respect of your friends and family while ensuring a secure financial future for yourself.
* Bureau of Labor Statistics, 2021
Your Future Starts Today!
Financial aid is available, and we accept applications on a rolling basis.
We have comprehensive support services that will get you through college and into a great career.