Master's Degree in Counseling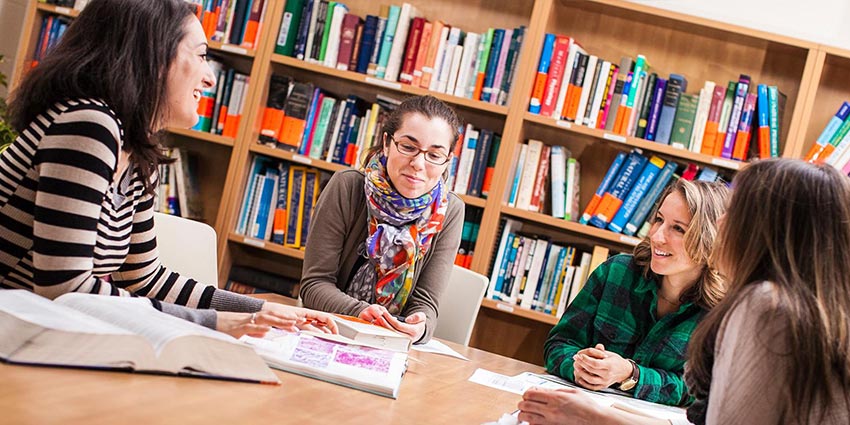 University of Bridgeport has a long tradition of preparing our graduates for outstanding careers in professional counseling and seek students interested in personal as well as professional growth. The Master's in Counseling MS Degree Program promotes academic excellence, personal responsibility, and commitment to community service. Our curriculum is offered in an international, culturally diverse, supportive learning environment that prepares counselors for leadership in our increasingly interconnected world.
The Clinical Mental Health Counseling concentration is designed to prepare students to function effectively in public or private agencies that provide direct services to clients with mental health and substance abuse issues. Graduates are eligible for licensure as professional counselors (LPC) in Connecticut.
The Council for Accreditation of Counseling and Related Educational Programs (CACREP), a specialized accrediting body recognized by the Council for Higher Education Accreditation (CHEA), has granted accreditation to the Clinical Mental Health Counseling MS degree program in the College of Science and Society at University of Bridgeport through March 31, 2028.
Mission Statement
The mission of the Counseling Program is to educate, develop and train students to serve a multicultural society as counselors and professionals in community, corporate, organization, hospital and school settings. The department provides students with a quality educational experience in counseling and college student affairs preparation through classroom teaching, clinical practice, supervision and scholarly research.
We are dedicated to the pursuit of the highest standards in the counseling profession.
We are committed to ethical and effective counseling and require our students to adhere to the American Counseling Associations (ACA) code of ethics, as well as those of the National Student Personnel Administrators Association (NASPA) and American College Personnel Association and College Student Educators International (ACPA).
Counselor Development
There are three dimensions to your development as a counselor:
Your personal growth and development (you as a person who counsels)
Your intellectual growth and development (your professional knowledge)
Your counseling skill set
Our curriculum is designed to address all three dimensions, inspiring personal growth, building professional knowledge and honing counseling skills. These aspects of counselor development are important to all counseling students irrespective of their specific career path.
Programs
The Division of Counseling offers a Master of Science degree in Counseling with a concentration in Clinical Mental Health Counseling. In addition to the master's degree, a Certificate of Advanced Graduate Study (CAGS) is offered for those who wish to take specialized courses beyond the masters and/or complete licensure requirements. Students who apply to one program and wish to transfer to another must apply to change programs.
Upon entry into a program, students plan an individualized plan of studies with their advisor in which graduate transfer credit of no more than six credits may be included. While students can take courses at their own pace, all of the counseling degree programs require a minimum of two years to complete. There is a set sequence of concentration courses and some courses have prerequisites. Courses are offered once a year, typically in the evening or on weekends. In addition, there is a seven year time limit for completion of all degree requirements.
Typically, students take two or three courses each term. Many students have full or part-time employment. Although it is possible to take all course work in the late afternoon, evening, or on weekends, some additional time during the day may be required to meet course expectations. This is especially true for internship placement.
Certificate of Advanced Graduate Study
For individuals who hold a master's degree in Counseling or a closely related field but lack one or more of the requirements for licensure as a professional counselor, we offer a specialized program of study leading to a Certificate of Advanced Graduate Study (CAGS) in Clinical Mental Health Counseling. The requirements of this program are individualized to the needs and goals of each student and consist of 30 credits.
Counseling MS Student Handbook
All students entering the Counseling Program are responsible for being familiar with and complying with the current version of the Counseling Program Student Handbook (the "Handbook"), which contains policies and procedures for the Counseling Program generally, as well as specific Program components.
2020-21 Annual Report
The Counseling Program is pleased to present this annual report for the 2020-21 Academic Year. This report highlights program evaluation results including admissions data, program evaluation data, graduation and job placement rates and our annual survey of Alumni. Each year our full-time faculty review program data, consult with site supervisors and part-time faculty, and consider programmatic changes. Recent changes are detailed within this report.
Coursework for Adult Learners and Professionals
The Master of Science in Counseling degree program runs coursework in the evenings (beginning at 4 p.m.) and on weekends to meet the needs of working adults. With the help of a personal academic advisor, each student completes the program at his or her own pace. Core courses build counseling knowledge and counseling skills in the following areas:
Human growth and development
The helping relationship
Lifestyle and career development
Research and evaluation
Social and cultural foundations
Professional orientation, ethics and behavior
Sixth Year Program
The Sixth Year Program is designed for students who have achieved a master's degree applicable to counseling or related field and need to supplement their coursework in clinical mental health skills and appraisal procedures. This advanced 30 credit program offers core courses in substance abuse counseling, psychopharmacology, evidence based therapies, and counseling special populations. In addition an internship/practicum in clinical mental health is required.
Professional Licensure
Students interested in licensure should consult the state in which they wish to practice for specific requirements. The State of Connecticut requires 60 credit masters degree. Specific areas of coursework are also required. In addition, candidates for licensure must complete supervised clinical experiences and obtain a qualifying score on a standardized examination. Students who wish to pursue licensure should select the Clinical Mental Health Counseling concentration.