Online Bachelor's Degree in Business Administration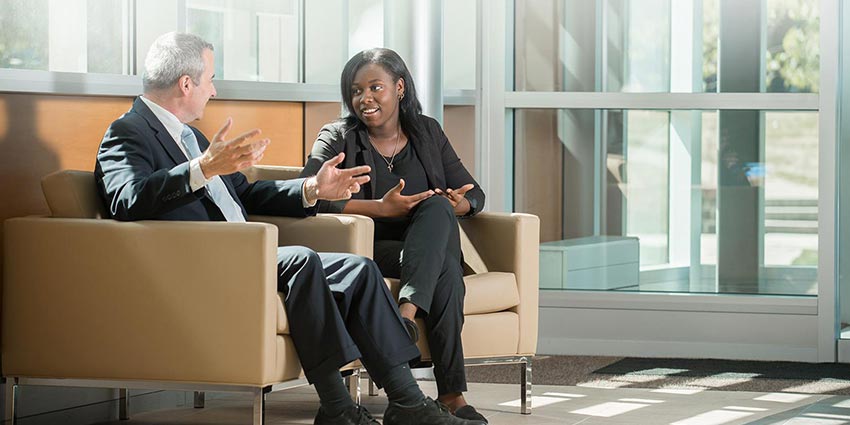 Accelerate your path to a business degree! Designed specifically for adult learners, our flexible, career-oriented online bachelor's degree in business administration program prepares you for the workforce by focusing on the skills employers demand including critical thinking, problem-solving, leadership, communications and management.
The bachelor's in Business Administration online degree is an accelerated program that provides a broad application of business knowledge while allowing the student to fulfill both their personal and professional goals. The program is structured so that students can study a variety of topics including accounting, finance, project management, leadership, marketing, sales, and human resource management.
Benefits of University of Bridgeport's Business Administration online degree
Courses taught by faculty with significant business and industry experience
Practical technical skills development necessary to success in business
Maximum flexibility to fulfill a student's personal and professional goals
A 7-week accelerated semester format
The BS in Business Administration concentration will prepare graduates to:
Acquire general business knowledge and acumen
Develop practical technical skills necessary for pursuing a career in business
Learn how to effectively communicate with others
Understand the role of business in the larger society
---
Healthcare Administration
The Healthcare Administration concentration of the Bachelor of Science in Business Administration accelerated online degree will help students manage the business side of healthcare. The program explores the different ways healthcare is delivered and managed that include regulatory, technological, financial and administrative factors in the context of a rapid-changing healthcare industry.
The Healthcare Administration track will prepare graduates to:
Demonstrate the knowledge of the fundamental and technical concepts of health care management and apply it to decision-making in managing within healthcare organizations.
Demonstrate knowledge of the core disciplines of healthcare administration: healthcare organization and structure, healthcare finance, healthcare policy, and/or public health to enhance decision-making in managing the healthcare organizations.
Use contemporary federal and state health-policies to analyze various healthcare issues.
Demonstrate knowledge of the primary ethical values underlying the healthcare institutions and delivery (i.e., respect for persons, beneficence, and justice, in managerial decision-making).
Apply basic statistical, quantitative, and economic concepts and tools to support analysis and decision-making.
Healthcare Administration program requirements (18 credits) includes courses:
HSCI 250 Introduction to Community and Public Health
HLAD 333 Management of Health Care Information Systems
HLAD 331 Law and Ethics in Health Care
HLAD 334 Health Care Financial Management
HLAD 332 Health Care Organization & Administration
HLAD 335 Health Care Strategic Management
Bachelor's of Business Administration classes will be offered in a format that will enable a student to complete the bachelor's degree in three years by taking courses during the summer. Required liberal arts and free elective courses that count toward your degree are offered in the summer.
Your Future Starts Today!
Financial aid is available, and we accept applications on a rolling basis.
We have comprehensive support services that will get you through college and into a great career.