Biology Programs
A biology degree from University of Bridgeport opens doors for careers in science, medicine, and more. In the recent years, biology has been modernized with the development of new and sophisticated techniques in molecular and cellular biology, genomics, and bioinformatics. Earn your degree in CT at UB.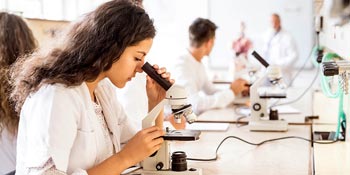 Biology BA, BS
UB's Bachelor's degree programs in Biology expose students to modern concepts, and current methods of experimentation in molecular biology, genomics, and field biology with introductory courses taken at the outset of their studies. The program emphasizes critical analytical and research skills needed for competitive fields like medicine, veterinary medicine, dentistry, and others. All majors are encouraged to participate in faculty research and advanced courses in specialized areas of faculty expertise.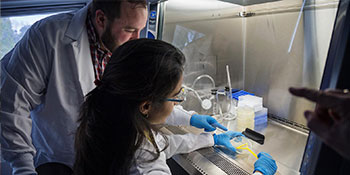 Biology MA, MS
UB's Master of Arts and Master of Science in Biology degree programs offer a contemporary curriculum that emphasizes the principles and experimental approaches of modern biology. They are designed to address the diverse needs of each type of graduate-level biology student. Both programs cover a wide-range of biological sub-disciplines, such as toxicology, ecology, and genetics, to prepare you for greater opportunities both professionally and academically.
Education Minor
University of Bridgeport's School of Education offers a seamless pathway from appropriate undergraduate majors into graduate education teacher preparation programs through the Education minor. The Education minor consists of undergraduate electives designed to help prepare candidates meet the teacher certification prerequisites in their undergraduate years, as well as provide them with practicum experiences in K-12 schools.
UB offers a plan of study that:
fulfills all requirements for a BA in Biology
fulfills all requirements for a Minor in Education
can be combined with a Master of Science in Secondary Education to meet all requirements for certification in Biology Education (7-12)
Your Future Starts Today!
Financial aid is available, and we accept applications on a rolling basis.
We have comprehensive support services that will get you through college and into a great career.