Bachelor's in Biology Degree Programs: BA, BS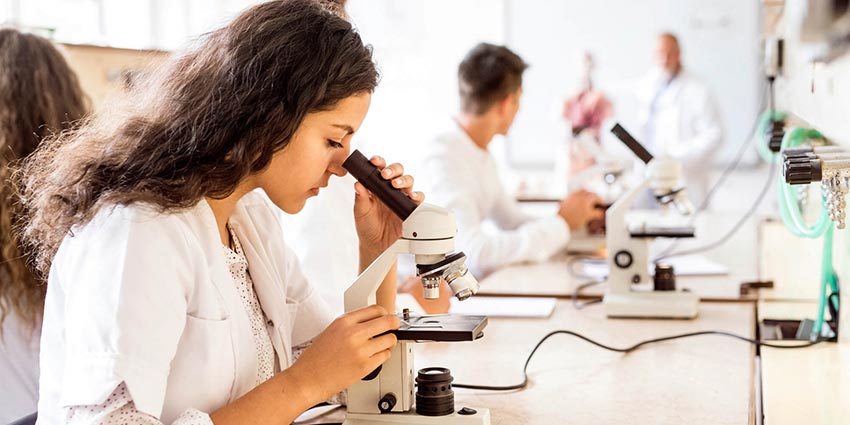 Start your journey to a successful career with a degree in biology from University of Bridgeport.
Are you interested in learning more about living organisms from the human body to complex animal and plant communities? Are you a naturally curious person? If so, a degree in biology may be a great fit for you! Biology explores the structure, origins, and functions of organisms. In recent years, biology has been modernized with the development of new and sophisticated techniques in molecular and cellular biology, genomics, and bioinformatics. A bachelor's in biology prepares you for a career in medicine, biomedical research, genetics, education, ecology, zoology and more. Our programs provide excellent preparation for graduate work in medicine, health, and research.
Receive a diversified biology degree.
The techniques taught at UB are utilized today in various areas of research, from genetics and differentiation to biomedicine, field studies, and animal behavior. You will be exposed to contemporary concepts, and current methods of experimentation in molecular biology, genomics, and field biology in your introductory courses. If you are looking for a further challenge within the program, you have the opportunity to choose advanced courses, which are given in specialized areas of faculty research.
Prepare for an exciting future.
Our biology degree program provides you with a distinctive preparation for an array of careers in medicine, dentistry, veterinary medicine, naturopathic medicine, chiropractic, allied health professions and related fields, in research and academia and more. Graduates of UB's biology program have a remarkable record of success in acceptance into graduate and medical schools, and in establishing notable careers in the biomedical sciences.