Bachelor's in Biology Degree Programs: BA, BS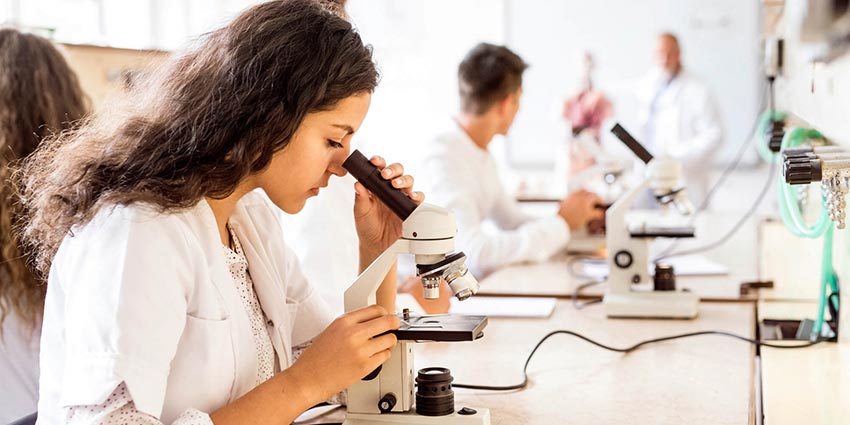 Take the First Step in Your Biology Career
Scientists are at the forefront of research and innovation — finding answers to our most complicated questions. With constant developments in research and technology, the need for skilled and experienced scientists is growing. Graduates from UB's Biology degree program go on to have exciting careers in biomedical science, biotechnology, pharmaceuticals, the medical field, and more! In this program, you'll develop a deep understanding of the organization of life in classes taught by experts in their fields.
Below, you'll find more information about the two ways you can earn a bachelor's in Biology degree at University of Bridgeport.
Bachelor of Arts in Biology
A BA in Biology will jump-start your career in the biological sciences. Many of UB's BA students combine the degree with a minor in Education for an exciting career as a science educator. You can choose your concentration and tailor your degree to your interests and career goals.
Concentrations offered:
Biomedical Science/Biotechnology
Ecology/Conservation/Environmental Biology
Bachelor of Science in Biology
A BS in Biology will prepare you to continue your education by pursuing a graduate degree in the field. Whether you want a career in research and development or to help others by becoming a medical professional, at UB, you'll gain the skills and experience you need for success in the field. Concentrations offered:
Biomedical Science/Biotechnology
Ecology/Conservation/Environmental Biology
Pre-Allied Health
Pre-Medical/Vet/Dental
Become Career-Ready With a Bachelor's Degree From University of Bridgeport
In addition to your core classes, you'll grow skills in collaboration, communication, creativity, time management, and problem-solving while taking courses in humanities, mathematics, and the natural and social sciences. Developing these soft skills is critical to a successful career in all areas of biology.
The University of Bridgeport has provided me with a wonderful competitive, robust degree in the field of Biology, which has significantly helped to achieve my career goals. The small student-to-faculty ratio and guest speaker lectures have helped me gain knowledge outside of the classroom. The subjects offered during this program, such as molecular biology, gut microbiome, toxicology, tissue culture, environmental health, biostatistics, and bioinformatics, have trained me in the latest fields of science and technology. The state-of-the-art modern laboratories at the University helped me gain hands-on experience in laboratory techniques.
Your Future Starts Today!
Financial aid is available, and we accept applications on a rolling basis.
We have comprehensive support services that will get you through college and into a great career.