Master's in Biology Degree Programs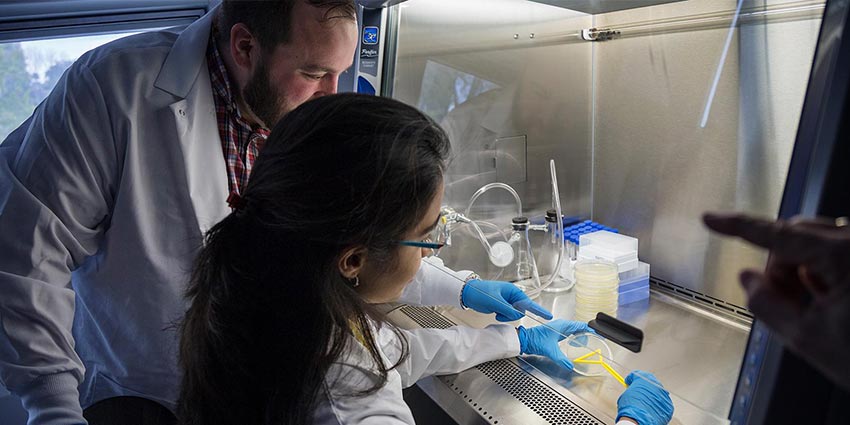 UB's Master of Arts and Master of Science in Biology degree programs offer a contemporary curriculum that emphasizes the principles and experimental approaches of modern biology. They are designed to address the diverse needs of each type of graduate-level biology student. Both programs cover a wide-range of biological sub-disciplines, such as toxicology, ecology, and genetics, to prepare you for greater opportunities both professionally and academically.
Benefits to our program include:
Small student-to-faculty ratio, which allows you to work closely with elite faculty who are active in and recognized for research in the field
Opportunity to learn from and connect with featured guest speakers
Close proximity to leading biotech and pharmaceutical companies for internship and future employment opportunities
State-of-the-art laboratory facilities at out seaside campus
Purpose and Objectives
The program will prepare graduates to:
Search, read and interpret current biological literature
Develop an in-depth understanding of the scientific issues of a particular area of biology
Develop expertise in research methods associated with an area of biology
Develop professional skills related to work in a specific area of biology or biomedical science
Integrate techniques, skills, and understanding of scientific principles across various area sub-disciplines of biology
Biology MS
The MS program will also develop independent scientific research skills, including the ability to:
Formulate scientific hypotheses, design and execute experiments
Collect, analyze and interpret experimental data
Deliver scientific ideas and experimental results both at scientific meetings and through preparation and publication of manuscripts
Biology MA
The MA program will also develop professional work skills, including the ability to:
Integrate knowledge of biology and biological research to occupations in clinical settings
Apply knowledge of biology and biological research to occupations in commercial or policy settings
These objectives serve the University's mission to offer "career-oriented undergraduate, graduate and professional degrees and programs for people seeking personal and professional growth."
Customize Your Experience
We offer a variety of customization options so you may select the academic plan that best suits your goals. First, we offer curricular tracks that emphasize Molecular Biology, Biomedical Science, or Ecology and Evolution to allow you to gain even deeper knowledge in a category of your choosing. We also offer two degree options, the Master of Arts or Master of Science in Biology:
Master of Science (MS) in Biology: This option emphasizes design and execution of experimental work. In this program, you will be required to complete a thesis featuring your original research. Students in this program will most likely be pursuing terminal degrees following the completion of their degree.
Master of Arts (MA) in Biology: This option emphasizes career building. As a student in the M.A. degree program, you will have the option of pursuing an internship or completing your degree with coursework only. Students in the M.A. degree program will most likely be working professionals interested in advancing their careers by gaining expertise in the field of biology.
Your Future Starts Today!
Financial aid is available, and we accept applications on a rolling basis.
We have comprehensive support services that will get you through college and into a great career.