Bachelor's Degree in English and Professional Writing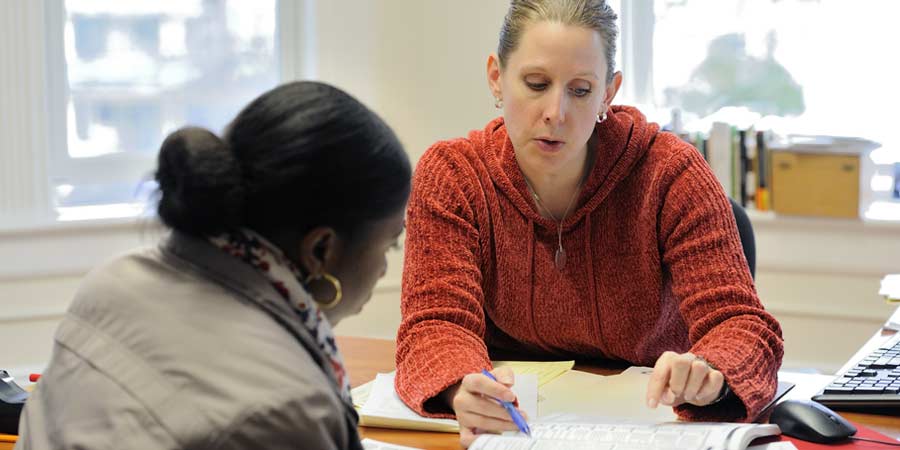 Prepare for an Exciting Career With a Professional Writing Degree.
With a bachelor's in English and Professional Writing degree from University of Bridgeport, you'll be prepared to enter a diverse workforce with endless career opportunities. You'll learn effective oral and written communication skills and master concepts critical to your professional success, such as reading comprehension, critical thinking, and cultural awareness. When you graduate, you'll be confident in your ability to achieve a rewarding career in writing, editing, content creation, and more!
Gain Critical Professional Skillsets.
The skills you gain when pursuing a degree in English and Professional Writing are not exclusive to the literary field. You'll become well-versed in the world of communication and develop the critical thinking skills needed to excel in your professional career. The ability to write and speak effectively, as well as express creative ideas in a clear, concise manner, are integral to building a successful workplace culture beyond the classroom. Graduates of UB's bachelor's in English and Professional Writing degree program go on to have rewarding careers as copywriters, content creators, marketing professionals, and communication experts at companies of all sizes.
Explore a World of Cultural Diversity.
We live in a dynamic professional world where our ideas of diversity and inclusion are constantly evolving. There is no better way to understand diverse human experiences than by immersing yourself in the world of literature. The empathy and cultural awareness that you develop as a result of your studies will allow you to understand the need for increased diversity and education in your career. Plus, at University of Bridgeport, we have an incredibly diverse faculty and student body that are constantly learning from one another and promoting increased diversity awareness.
Flex Your Creativity.
One of the many draws of an English and Professional Writing degree is the ability to turn your passion for literature into a lucrative career path. As a graduate of this program, you'll have the unique ability to think outside the box and come up with new and exciting ideas to contribute to advancements in your chosen field.
Become Career-Ready With a Bachelor's Degree from University of Bridgeport.
In addition to your core classes, you'll grow skills in collaboration, communication, creativity, time management, and problem-solving while taking courses in humanities, mathematics, and the natural and social sciences. Developing these soft skills is critical to a successful career in all areas of professional writing.
---
Possible career outcomes:
Communications specialist
Content strategist
Copywriter
Editor
Educator
Freelance writer
Grant writer
Technical writer
And more!
Your Future Starts Today!
Financial aid is available, and we accept applications on a rolling basis.
We have comprehensive support services that will get you through college and into a great career.