Electrical Engineering MS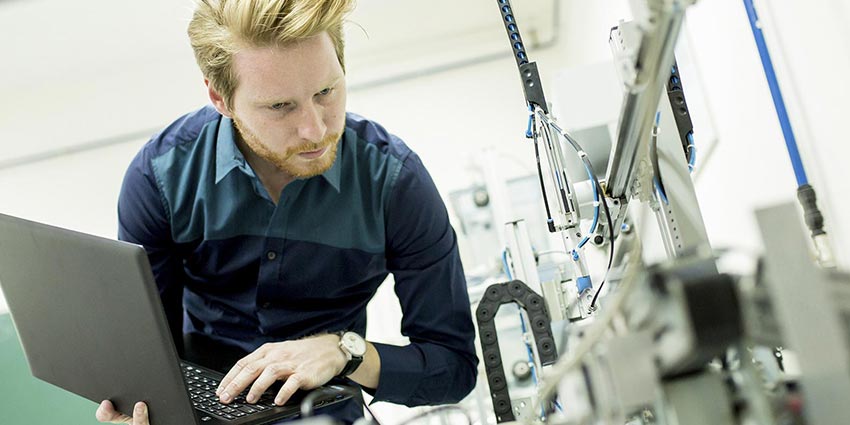 A Master of Science Degree in Electrical Engineering (MSEE) will provide the student with the knowledge and skills needed to pursue many new and different careers in modern society, including careers that have yet to be invented.
Electronics Design and Nanotechnology
The EE department has an electronics design program that is state-of-the-art, with emphasis on very large scale integrated circuits design (VLSI) on a microscopic scale and with a new emphasis of VLSI design on a nanometer-scale as well. A series of VLSI courses (i) design (Analog and Digital VLSI, radio frequency VLSI, low power VLSI), (ii) fabrication (microelectronic fabrication and nanotechnology), and (iii) testing (VLSI testing) are available. A closely related field is mirco- and nano-technology MEMS (microelectromechanical systems). Micro-MEMS designs systems of electronics and motion the size of microns. The smaller nano-MEMS builds systems the size of individual molecules. Nano-MEMS is used to create the next generation of VLSI components, including single-electron-transistors, nano-wires, and quantum computers.
Our department has a strong concentration in signal analysis, including the analysis of human speech vs. noise and the transmission of signals via satellite or cable or cell tower.
The EE department has a large PLC lab. Programmable Logic Control consists of 2 parts. You build an assembly line to move products and to do things to these products; for example, a robot arm will sort products or load them on to a platform. To control this assembly line, you need to implement the necessary computer code.
Co-curricular Opportunities
Each student picks their own concentration, based on what they hope to become after graduation. Students choose courses from a list of over 50 different courses with the intention of developing the skills and competencies necessary for their concentration.
Our courses are diverse and range from nuclear-electric energy to fiber optics to networks to power generation, and beyond. We have strong ties to the Biomedical Engineering (BME) program at UB and many BME courses are cross listed in EE. Also, we allow up to 4 courses to be taken in the departments of Computer Engineering and Computer Science.
We have over 50 courses that offer a wide variety of topics, ranging from pure electronics to fiber optics/networks, to medical machines, to wireless (cell) communications to renewable energy, to machine automation, and to power plant fundamentals.
The School of Engineering at University of Bridgeport offers a new program in Biomedical Engineering, which is growing rapidly. It should be noted that EE supports this program, and it has offered medical engineering courses dating back 20 years, with many successful graduates getting jobs as engineers in health related fields from as far back as the 1980's.
STEM and OPT
The M.S. degrees offered by the School of Engineering at the University of Bridgeport are classified by ICE (U.S. Immigration and Customs Enforcement) as STEM (Science, Technology, Engineering and Math) degrees. Therefore, all International Students who earn an M.S. degree are eligible for twelve (12) months of OPT (Optional Practical Training) and at the end of the twelve months of OPT, the student and the company the student works for, can apply for an extension of twenty-four (24) additional months of work, as long as the company is an E-verify company. In summary, a graduate with an M.S. degree can work under OPT in the U.S.A. for a total of thirty-six (36) months.
For more information, visit International Student Services.
---
Financial Stipends and Scholarships
The following Financial Stipends and Scholarships are available for qualified student applicants. For more information, please refer to Cost and Financial Aid.
(A) Graduate Merit Award
University of Bridgeport offers a Merit Scholarship to help deserving students meet their financial obligations of pursuing a graduate degree.
(B) Graduate Assistantships, Research Assistantships, and Student Workers employment
Graduate Assistantships, Research Assistantships, and Student Workers employment are also available for qualified students. For more information, please refer to On-Campus Jobs.
Your Future Starts Today!
Financial aid is available, and we accept applications on a rolling basis.
We have comprehensive support services that will get you through college and into a great career.