Bachelor's in Electrical Engineering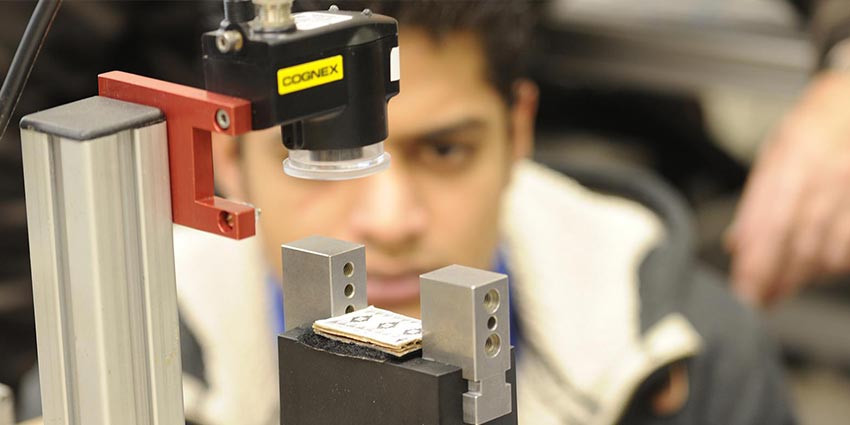 Prepare for a Rewarding Career in the Cutting-Edge Field of Electrical Engineering.
As society becomes more reliant on the rapid development of technology, we are in need of dedicated electrical engineers committed to serving our communities through creativity and innovation. When you earn your Bachelor's in Electrical Engineering from University of Bridgeport, you'll master critical problem-solving skills and pose solutions to some of the industry's most complex topics. At UB, you'll learn the necessary analytical and quantitative skills to be successful in your career. Our expert faculty will help you adapt to new advancements in technology — you'll always be ready to contribute to exciting new projects within your field.
Design Your Dream Career.
When you earn your Electrical Engineering degree at UB, you'll develop the analytical and design skills necessary for success in this growing field. Electrical engineers play a key role in the development of new technology that transforms our modern world, such as breakthroughs in smartphones, minicomputers, and improved medical machinery. There's no shortage of career opportunities in Electrical Engineering, so you'll have job security in a fulfilling line of work. Graduates from UB's BS in Electrical Engineering program go on to have rewarding careers in e-commerce, communication, healthcare, and even the space industry!
Perfect Your Problem-Solving Skills.
Effective problem-solving is at the heart of Electrical Engineering, and at UB, we are committed to helping you develop those skills. Our expert faculty use project-based learning to simulate real-world scenarios, giving you the opportunity to come up with meaningful solutions to industry problems. This will allow you to contribute to advancements in the field and utilize your creativity to spark new developments in technology.
Become Career-Ready with a Bachelor's Degree from University of Bridgeport.
In addition to your core classes, you'll grow skills in collaboration, communication, creativity, time management, and problem-solving while taking courses in humanities, mathematics, and the natural and social sciences. Developing these soft skills is critical to a successful career in all areas of electrical engineering.
Elective Tracks
At UB, you will have an opportunity to tailor your degree to your passions and interests. You may choose from the following elective tracks:
Controls and LC
Microelectronics and VLSI Design
Power and Renewable Energy
Signal Processing and Communications
---
Possible career paths include:
Communication
Defense
E-commerce
Healthcare
Homeland security
Renewable energy
Technology startups
The space industry
And more!
Your Future Starts Today!
Financial aid is available, and we accept applications on a rolling basis.
We have comprehensive support services that will get you through college and into a great career.