Electrical Engineering BS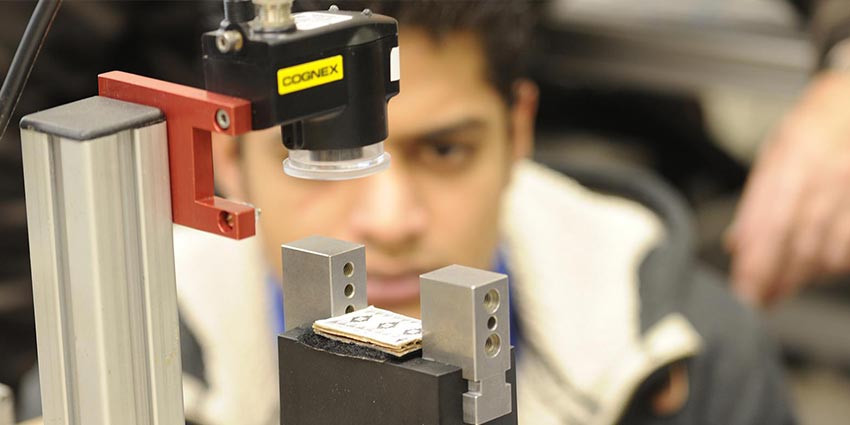 The undergraduate Electrical Engineering program at University of Bridgeport prepares students for a career in Electrical Engineering in any of its specializations such as communications, power/renewable energy, signals and systems and VLSI/ electronics. The program includes analysis and design courses that need a strong background in mathematics and science.
Electrical Engineering is one of the largest discipline in engineering which deals with power, controls, signals and systems, materials, communications, micro-nano electronics and more. The Electrical Engineering curriculum at UB prepares our students to be skilled problem solvers, ready for a multitude of career opportunities. Our gradates work in public and private sectors, for almost every industry imaginable, including e-commerce, communication, health-care, the space industry, defense, home-land security, renewable energy and technology startups.
Design and problem solving form the heart of the discipline and a variety of computer aided design (CAD) tools are utilized to facilitate problem-based learning and implementation. The graduate of this program will obtain the basic education in the first three years. The senior year is utilized to explore specific areas of interest. A total of 120 semester hours are required to complete the degree.
The Bachelor of Science in Electrical Engineering program is accredited by the Engineering Accreditation Commission of ABET, www.abet.org.
Students pursuing their degree at ABET accredited EE program benefit from:
The education with the integration of the practice of engineering design throughout the curriculum.
The interdisciplinary curriculum addressing a growing demand for professionals who have both strong discipline-specific knowledge and substantial competency in Computer Science* and Computer Engineering**.
Opportunities for project-based learning and the availability of cutting-edge tools and laboratories
Elective tracks that allow targeted learning within following four unique subject areas:

Microelectronics and VLSI Design
Signal Processing and Communications
Controls and PLC
Power and Renewable Energy

A rich array of on-campus clubs and societies in which engineering students may pursue their interests outside the classroom
Program Educational Objectives
Our Electrical Engineering Graduates will:
Demonstrate peer-recognized expertise and problem solving skills providing solutions to the problems in industry, academia as well as other disciplines in the field they choose to pursue. [Problem Solving]
Demonstrate the capacity to embrace new opportunities and adapt to changes in emerging technologies, developing future state-of-the art designs and products. [Engineering System Design]
Demonstrate leadership skills and facilitate the achievement of others while collaborating with professionals in a multidisciplinary environment. [Communication]
Demonstrate their creative and critical reasoning skills while solving technical problems, ethically and responsibly, in service to society. [Contemporary issues]
Demonstrate life-long learning and adaptation to a continuously changing field through graduate work, professional development, and self-study. [LLL/Work/Grad School]
Student Enrollment
| Year | Enrollment |
| --- | --- |
| 2021 | 49 |
| 2020 | 60 |
| 2019 | 85 |
| 2018 | 99 |
| 2017 | 103 |
Certified Graduates
| Year | Graduates |
| --- | --- |
| 2019-2020 | 25 |
| 2018-2019 | 30 |
| 2017-2018 | 42 |
| 2016-2017 | 36 |