Computer Science & Engineering PhD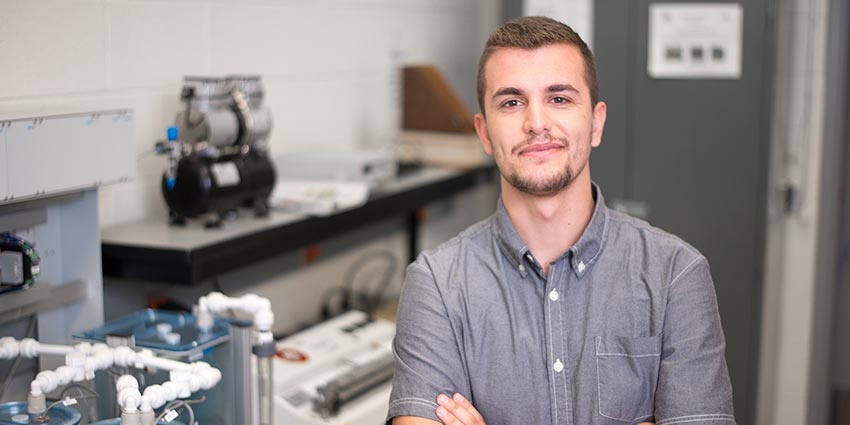 The PhD degree is a certification of critical aptitude in scholarship, imagination, knowledge in the discipline, enterprise in research, and proficiency and style in communication.
A candidate obtaining a Ph.D. degree must display a thorough understanding in the major areas of computer science and engineering and must master the necessary tools and techniques so as to be able to make original contributions to the field of computer science and engineering. An equally important aspect is that of proficiency in oral and written communication skills.
The requirements of the Ph.D. program are: successful completion of preliminary examinations and courses, satisfactory performance in written comprehensive and oral examinations, admission to Ph.D. candidacy, successful completion and defense of original work documented as a dissertation, and the satisfaction of additional requirements such as teaching and seminars.
The formal degree to be offered is the Doctor of Philosophy in Computer Science and Engineering. This will be awarded to candidates who complete all the requirements of the Ph.D. degree.
Advisor
Each candidate, in her/his first semester, will be assigned an advisor by the Ph.D. program coordinator. The advisor will develop a program of study for the student and monitor her/his progress until a dissertation committee is formed for the student. The dissertation advisor will perform all subsequent advising. A student is required to form a dissertation committee in conjunction with the Ph.D. program coordinator after finishing the core Ph.D. courses, so that a better understanding of the various topics and research interests in the department will, by then, have been achieved.
Dissertation
The student is expected to work on the accepted topic and come up with original results. S/he has to report the results in the form of a Ph.D. dissertation. The student is encouraged to document the intermediate results in the form of technical reports. S/he is also encouraged to publish these results as they are discovered, in the international professional literature, i.e., refereed conference proceedings and journals. Proof of good work is the acceptance of the results by reputed journals. Intermediate results can also be discussed in departmental seminars. The completed dissertation must be distributed to the dissertation committee members at least two weeks before the dissertation defense. The committee will read it and certify that the dissertation is a work of substantial merit and that it can be defended. It is the responsibility of the student that the final draft of the dissertation addresses all legitimate concerns of the committee members.
Dissertation Committee
After selecting a dissertation advisor, the student is required to define a problem of merit, carry out a literature search and prepare a course of action to solve the selected problem. The candidate is expected to produce a dissertation proposal. The dissertation advisor in consultation with the Ph.D. program Director, recommends a dissertation committee for the student. The dissertation committee includes at least three members in addition to the dissertation advisor. At least four members of the dissertation committee must be from a professorial rank within the school. Additionally, an external examiner is appointed as well. It is expected that the dissertation Supervisor and at least 50% of the committee membership has to be from professorial ranks of the Computer Science and Engineering Department. The external examiner is one whom has been distinguished in the field of computer science and engineering. S/he might not hold a professorial rank. Ph.D. Program Director and the Dean of the School of Engineering must then approve the dissertation committee.
Depth and Breadth
A Ph.D. program that combines computer science and computer engineering is unusual. Our program will offer depth and breadth in both disciplines. Other unique characteristics include the program's teaching and publishing requirements.
Recognizing that many of its graduates will pursue academic careers, the program requires all students to teach two courses. The teaching practicum is an important component. Most Ph.D.s in this field are not prepared to teach, and this experience will give our students an edge as they compete for faculty positions.
Similarly, the requirement that all students have research articles accepted for publication prior to graduation will demonstrate to prospective employers that they know how to write for scholarly publications. The requirement is for two articles in high-level refereed journals or one journal and two conference articles. Another highly relevant requirement for all Ph.D. students calls for two courses in global technology management.
Long and Distinguished History
The largest graduate engineering program in Connecticut across all disciplines, University of Bridgeport has amassed a long and distinguished history in computer science and engineering since it began offering master's degrees in 1970.
Among other distinctions, two years ago the University was ranked second in the nation in the production of M.S. degrees in computer science for women and fourth for men and women combined. Both student and faculty research papers have won prestigious awards at professional engineering conferences throughout the years. Strong affiliations with many area companies have led to varied internship and co-op opportunities. And graduates have gone on to research and development careers at many of the most distinguished companies locally and nationally.
Available Research Areas
Computer architecture and VLSI and FPGA
Design, modeling and simulation of embedded and integrated systems
Electromechanical systems prototyping and optimization
Robotics, automation, machine perception and sensing
Software engineering, Web development and computational sciences
Systems and computer security and biometrics
Wireless and mobile computing and networking
Mobile Communications, Cloud computing, Internet of things and networking
Your Future Starts Today!
Financial aid is available, and we accept applications on a rolling basis.
We have comprehensive support services that will get you through college and into a great career.