Bachelor's in Computer Engineering Degree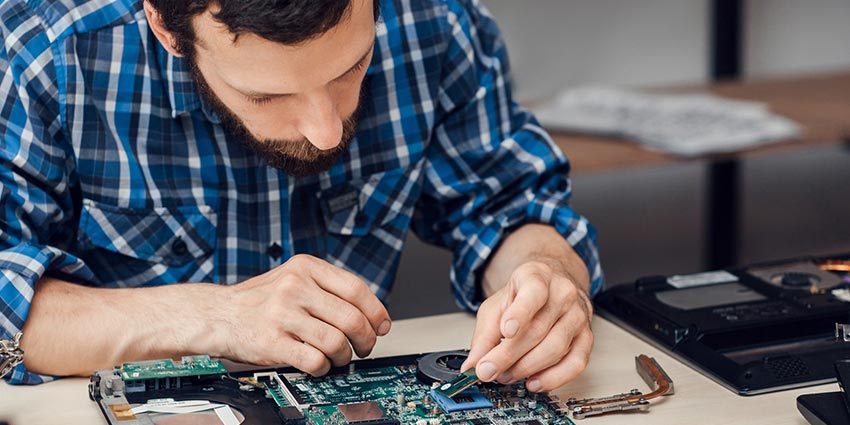 Earn a bachelor's in Computer Engineering That's focused on your future
In our fast-paced world, we need experienced computer engineers to develop effective and innovative solutions to today's software and hardware problems. University of Bridgeport's Computer Engineering bachelor's degree program trains you to meet these challenges by developing a deep understanding of how the electrical engineering and computer science fields come together in the technology we use every day. Graduates of UB's bachelor's in Computer Engineering program go on to secure well-paying jobs in chip design, software engineering, robotics, computer networks, Internet of Things (IoT), network security, and more.
Discover UB's engineering approach to hardware and software design
Computer engineers work behind the scenes, creating and designing effective solutions to networking and computing problems affecting our interconnected world. At UB, classes are taught by experts in their fields. Their diverse experiences and teaching strategies will give you the skills needed for success in the field. In this program, you'll develop a deep understanding of engineering mathematics, digital and analog electronics and control, computer languages, computing theory, and computer architecture.
Gain hands-on experience in computer engineering
During the first three years of the Computer Engineering bachelor's degree program, you'll gain the skills and experience you need to become a leader in the field of computer engineering. The final year of the program is dedicated to exploring your personal and professional interests in computer engineering.
You can choose from one of two pathways:
Software-oriented program: You'll study artificial intelligence, deep learning, computer vision, cyber security, cloud computing, and web application design.
Hardware-oriented program: You'll study computer or integrated circuit design, robotics, IoT, and networking.
Become career-ready with a bachelor's degree from University of Bridgeport
In addition to your core classes, you'll grow skills in collaboration, communication, creativity, time management, and problem-solving while taking courses in humanities, mathematics, and the natural and social sciences. Developing these soft skills is critical to a successful career in all areas of computer engineering technology.
---
Possible career paths include:
Computer and information systems manager
Computer hardware engineer
Computer systems analyst
Forensic Computer analyst
Machine learning engineer
Mobile application developer
Software engineer
Web developer
Your Future Starts Today!
Financial aid is available, and we accept applications on a rolling basis.
We have comprehensive support services that will get you through college and into a great career.
Find additional information about the Computer Engineering BS degree in the academic catalog.