Computer Engineering BS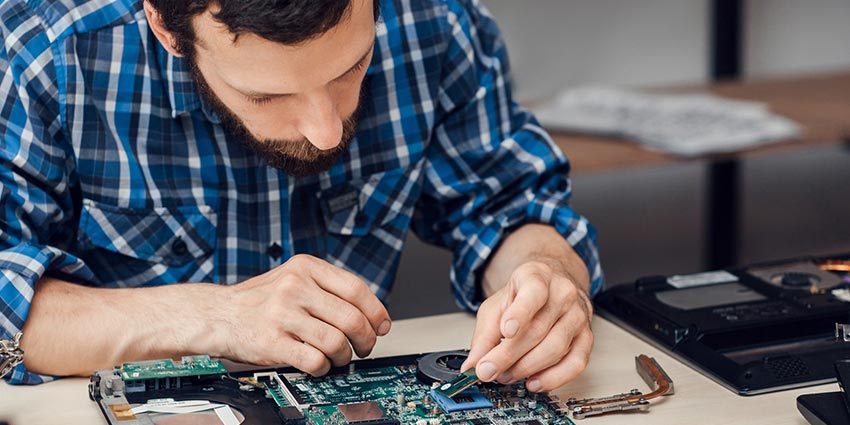 The ever-increasing use of the computer in today's world offers expanding opportunities in this field of specialization. University of Bridgeport's Computer Engineering BS degree program provides a bridge between the disciplines of electrical engineering and computer science.
Graduates can enter such fields as chip design, software engineering, robotics, computer networks, internet of things, network security and a variety of computer-controlled applications. This requires the development of the engineering approach through the understanding of engineering mathematics, digital and analog electronics and control, as well as computer languages, computing theory and computer architecture. Design and problem-solving form the heart of the discipline and a variety of computer-aided design (CAD) tools are utilized to facilitate learning and implementation.
The graduate from this program will obtain the basic education in the first three years. The final year is utilized to explore specific areas of interest. One can choose a software-oriented program including such areas as artificial intelligence, deep learning, computer vision, cyber security, cloud computing and web application design, or a hardware-oriented program pointing toward computer or integrated circuit design, robotics, internet of things and networking.
The engineering approach and knowledge of computer structure are the attributes that make it unique. The Computer Engineering program is accredited by the Engineering Accreditation Commission of ABET, https://www.abet.org. A total of 121 semester hours are required for graduation.
Program Educational Objectives
Our graduates will develop effective and innovative solutions to challenging engineering problems. [Problem Solving]
Our graduates will become leaders in emerging technologies, developing future state-of-the-art designs and products based on new fundamental theories. [Engineering System Design]
Our graduates will lead teams of engineers and collaborate with other professionals in multidisciplinary environments. [Communication]
Our graduates will maintain an awareness of the global and societal environment, and engineer solutions to problems as they arise. [Contemporary Issues]
Our graduates will engage in life-long learning by pursuing advanced degrees and professional development leading to career advancement. [Work/Grad School]
Student Enrollment
| Year | Enrollment |
| --- | --- |
| Fall 2021 | 27 |
| 2020-2021 | 39 |
| 2019-2020 | 54 |
| 2018-2019 | 53 |
| 2017-2018 | 61 |
| 2016-2017 | 40 |
Certified Graduates
| Year | Graduates |
| --- | --- |
| 2019-2020 | 10 |
| 2018-2019 | 3 |
| 2017-2018 | 9 |
| 2016-2017 | 6 |