Analytics MS Programs
Modern technology now provides industries of all kinds with the ability to gather vast amounts of data. But data requires more than just flashy dashboards and reports. In order to make better data-driven business decisions, employers require hybrid IT/business professionals to make data meaningful. University of Bridgeport's master's in Analytics program was built with this need in mind.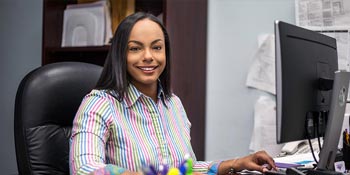 Analytics MS
The STEM-designated Analytics MS degree program was designed by faculty who are industry professionals and experts in the field.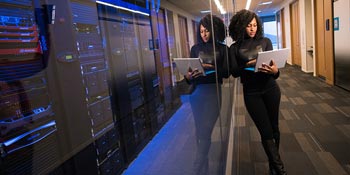 Analytics MS Online
University of Bridgeport's 100% online Analytics MS degree program can be completed in as little as one year.
Professor Mike Lohle spoke with Melissa Sheketoff of Melissa in the Morning about the push for data-driven decision-making at all levels of business and the need for analytics professionals to help leaders make informed decisions. Listen in to see how a degree in Analytics can help secure your future in business!
Intro: Live, local, and free, wherever and however you listen. It's Melissa in the morning on WICC's's 600 AM and 107.3 FM.
Melissa Sheketoff: Now, when you think about Analytics, I don't know if you've seen it a lot lately in the news, I certainly have. I don't know if you would think about the University of Bridgeport. Now I have to confess my mother actually is a UB grad. She went to their nursing school many years ago. And so, I keep tabs on UB. And something came across my email maybe a month or so ago talking about the Analytics students over at UB. And I thought, what? Analytics at University of Bridgeport, what's going on? So, I'm very excited to talk just about their program, in general, and understand it a little bit better, and why they have made the news recently. And joining us to give us more of that information is Mike Lohle, who is the chair of the undergraduate and graduate Analytics programs and associate professor at the University of Bridgeport. Mike, welcome in studio. Glad to meet you.
Mike Lohle: Thanks for having me.
Melissa Sheketoff: Yeah, I'm really excited to have you here. Now, before we even dive into what has really transpired at University of Bridgeport. It sounds silly, but what is Analytics? For people who may hear that term, and think, "oh, yeah," but then to define it might be a little bit harder to do. What is it?
Mike Lohle: Sure. Analytics is really when it comes down to it. It's moving from gut feel decision-making and intuition to fact-based decision making, you know? You think about that old show Madman. Yeah, so that was about a bunch of guys down on Madison Avenue trying to design advertising for somebody in the Midwest that might be using a product they never touched. And, you know, as a result, what came out of that was a very homogenous sort of vanilla approach that might not have worked might not have expanded the marketplaces for them as much as it could have. They missed the nuance. They missed the cultural differences, the perceptual differences. The way to position their products that they could have gotten only from information. And so, Analytics basically brings that to the forefront. So that you can take that facts-based decision-making that would position your products more effectively, maybe gain your market larger and move the business forward.
Melissa Sheketoff: I mean, so Analytics, to me, always sounded like something that was math-based. But you're talking more about just, it sounds like almost information collection.
Mike Lohle: That's really what it's about. If I can, I'll use an analogy, okay? So, you know, these days, if you think about it, so much information, there's more information in a day than basically, right? To be honest, it's way too much. And you're hitting it right on the head, right? So, for every senior leader in a business, you know, they've got information coming at them. I liken it to a water hose. I don't know, when I was growing up, I drank out of a water hose, right. Okay, Analytics people, basically, if we're doing our job correctly, we're basically providing that water in a glass so that they can drink from it now. Now, a lot of people say, "Well, okay, analytics is technology." And sure, it is, okay. But that's the piece with the glass. Okay, now we then if we're doing our jobs correctly, we actually help the senior leaders drink the water, the data so that they can digest it. Okay, that's when we're really doing our job effectively. It's like a process for doing so. And as a result, we help them gain the insights to move the business forward. And that's really what Analytics is.
Melissa Sheketoff: That's interesting. And I mean, even just what you broke down before Mike, that made a lot of sense, because every state is going to be different. We laugh a lot on the show, because I lived in Vermont for ten years on and off. And when you go up there, if you want to order soft serve ice cream, it's called creamy. So, if you wanted to market let's just say like soft serve ice cream, and you're saying, "oh, come get our soft serve," you actually would probably lose an awful lot of business up in Vermont, because they wouldn't even refer to it as that. So that's, you know, just a very, very simple I'm saying, you know, information, but from just one state to another in New England, something like that is so totally different. And that's where Analytics could come into play.
Mike Lohle: Yeah, totally. I grew up in New Jersey and the sub submarine sandwiches were grinders up there. I swear, I didn't even realize for the first ten years I lived here. So yeah, so Analytics, we'd be able to get the insight to be able to sell that ice cream more effectively.
Melissa Sheketoff: Wow. So why do you think Mike Analytics has become so incredibly popular? Because I'm hearing more and more students looking for that program when they are entering colleges? I'm hearing that more it seems now.
Mike Lohle: So, there's a couple of reasons for it. First of all, as we mentioned before, the data is just generating at a fast pace. And so, the need for people to master it and help leadership with that insight is going to it's not going to go away. It's going to proceed at that pace. But what comes with that are solid salaries. Okay? And it might vary by metropolitan statistical area. I mean, maybe in Manhattan, the salaries are different than here are different than maybe Broward County, Florida. But by and large, if you look at it, the salaries are solid, and they're high. So, and there's good career growth, because if you picture it, there's this whole industry that's grown up around it and so on. So, I'd say that combination really, really is what's driving interest both from students, we have undergrad and grad programs. And what I see is mid-career professionals who want to use this to give their career a turbo boost mid-career, or, you know, undergraduates who realize, you know, hey, you're not going to get security in business. Because there's such demand because of the data, we're going to need people to master that for years to come.
Melissa Sheketoff: It Sounds like it's not going away anytime soon. So again, we have Mike Lohke here who is the chair of the undergraduate and graduate Analytics programs over at University of Bridgeport, also an associate professor there, Mike, what got you into Analytics?
Mike Lohle: Well, I was basically my dad. My father was for a long time, it wasn't called Analytics at the time, he was an information systems guy. I was interested in following in his footsteps, I went to Fairfield U for undergrad, and got a job at GE in a training program for it. And the rest is history. And I've stayed with it. And, you know, that you asked me about careers. I mean, I actually I coded program for about eight years, but most of my career has been in management and, and analytics. And so, it's fueled a long, 26-year career. I've been at it. I've been at UB for about 10 years now. But prior to that I was in industry for a long time doing this stuff. And it was good.
Melissa Sheketoff: Okay. So, I mean, obviously, you know a thing or two about analytics, why did UB show interest in bringing this program?
Mike Lohle: Well, I mean, well, first of all, you can't deny these days that analytics is table stakes. If you think about what we were just saying you can't. If you don't have comfort with data as either an organization or an individual, you're going to get left behind. And these days, it's not even about, you know, analytics is unique, it's you just better be up with it. So, we saw it as a critical component, a cornerstone or foundational piece in what we're trying to do there. I mean, the Trefz School of Business is, is really where this is housed. And we felt that this was a critical piece of knowledge, a critical process for people to understand if they're going to be effective in industry, so we had to have it. That's the way I describe it.
Melissa Sheketoff: We have Mike Lohle here, who is the chair of the undergraduate and graduate Analytics programs and associate professor over at University of Bridgeport. We're talking all about analytics because they have an Analytics program. I don't know if you knew that at University of Bridgeport. We were just kind of defining it, why there are so many jobs available, what it could do for students. And so, Mike, I also wanted to just talk about specifically UB analytics students, I did notice they were in the news recently, what's happening with the program? What are we seeing students do with the skills they're getting at the school?
Mike Lohle: Well, yeah, I mean, basically, you're probably talking about the foot traffic stuff. Right? So, what we're, what we're doing is this. There's a lot of analytics programs. It's a crowded marketplace out there. And for the reasons I pointed out. And so, one of the things we did feel differentiates us is we're making a big push into experiential learning. And what that means is that it's not just out of the book, we want to get the students getting some practical experience. We also have a lot of certificates as well, most notably a partnership or an academic collaboration with SAS. But anyway, talking about Foot Traffic Stats, it's a great example. It's our first entre into this experiential learning. And how that started was a guy by the name of Frank Kuchinski. Frank, if you're listening, thanks! Frank was on our industry advisory board. And he had the startup Foot Traffic Stats. And basically, it's an Internet of Things company and you know, fancy word for saying they have these tools that will scan when folks walk into a high traffic area.
Okay, I was I was wrestling with the word you could probably tell.
Melissa Sheketoff: No, you're fine.
Mike Lohle: So, they had these sensors. And what they wanted to do was use UB as their use case because these sensors will help you manage queuing and volume for things like banks, etc. Anyway, they wanted to use UB. And so, he and his partner, Matt Kern, teamed up with one of our faculty members, Dr. Ali Baker, who is awesome. And I want to thank him because he stepped up and changed his entire capstone course in analytics to accommodate this.
Melissa Sheketoff: Wow.
Mike Lohle: And so, you know, what they did was they worked with the students, and the students managed the placement of the sensors around campus in high traffic areas like the Wheeler Rec Center, the library, the cafeteria, among others. They manage the maintenance of the sensors. So, they had to make sure that they were operational order. And they developed these dashboards like your car, right, your car is the gas gauge and the fuel. But in this case, they had key performance indicators where basically they helped the folks managing these different groups understand when the volume was highest, when the volume was slowest etc., in a dashboard form using a product called Power BI, which is very prominent in industry.
And so obviously, you know, the students got a lot out of it. Ali tells me all the time, because I'm a big project management guy, Mike, it wasn't just technology. I mean, we did a lot of project management. This is real interdisciplinary stuff that you really don't find elsewhere. Yeah, very practical. But, you know, Foot Traffic Stats told us that, hey, you know, what, we got a chance to do a use case that, you know, we wouldn't have seen our product in action. Okay, until this, we got their direct input into our curriculum, which we've actually taken action on. And, you know, basically now the Foot Traffic Stats people describe us as their analytic shop, which is great, because when you think about it, they're a startup, right? And so, we expand their reach, right? So, it's really been a win win. And we're going to work to do a lot more of these types of experiential learning projects going forward. It's really a game changer for us.
Melissa Sheketoff: And this is a startup that's in Stratford?
Mike Lohle: Yeah.
Melissa Sheketoff: Wow! So, it's like local, helping local.
Mike Lohle: Absolutely.
Melissa Sheketoff: Oh, that's really neat. So, if people are interested in either enrolling their students into this, or like you were saying, you have kind of split student bodies. You've got, you know, the brand new students coming in as undergrads and they want to take on analytics, or you have people who are already established, but they want to make a change in their career, and they've heard a lot about analytics, or even just hearing this, they're like, "You know what, this might be something I want to explore." What would you suggest Mike? Where should they go do it? Or is there like a page on the UB site or anything that people should be looking at? Or what do you suggest is the next step?
Mike Lohle: Sure. Well, the easiest thing to do is go on the website, do a search on analytics. What'll happen is they'll see both the master's Analytics programs and then at the master's level, we have an online program as well as an on campus-based program. And we have an undergraduate program, they'll see both there. They can also contact me I'll share my email. It's
And if I can't answer the question, I'll route them to the right, the right people.
Melissa Sheketoff: That's perfect. And again, if you want to go to the website, it's also bridgeport.edu. And you can see other news and stuff on there. That's where I found this was bridgeport.edu/news. But you can find a lot of great resources just by going to bridgeport.edu. That's University of Bridgeport and Mike Lohle. I thank you so much for being so passionate about analytics and having such a huge role at University of Bridgeport in this wave of analytics students and going out into the working field and doing this I thank you so much for being part of that.
Mike Lohle: Well, thanks for giving us the opportunity for the visibility. We really appreciate it.
Melissa Sheketoff: Absolutely. And I look forward to more continued success and keep sharing those stories here on WICC.
Mike Lohle: Looking forward to it. Thank you.
Your Future Starts Today!