Online RN to BSN Program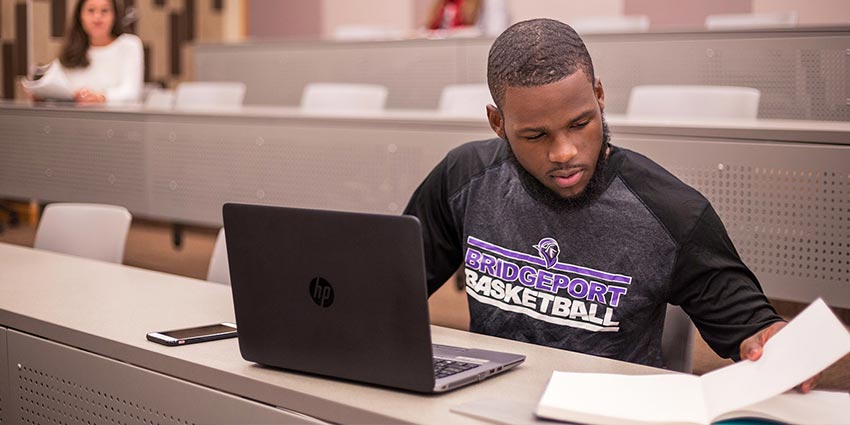 Advance your career, earn your RN-to-BSN at University of Bridgeport!
If you are a registered nurse looking to expand your career and educational mobility, then our online RN to BSN nursing completion program is for you. Earn your RN-to-BSN degree online, on your schedule, and in an environment that complements the knowledge, skills, and abilities your experience brings to the digital classroom.
Start your journey to success — on your time.
You may transfer up to 90 credits from previous nursing program coursework from accredited institutions.
As a student in the online RN to BSN program, you will complete a total of 120 credits in the following areas: general education (University core and electives), basic nursing, and upper-level nursing on a flexible, online schedule. Once matriculated, you must complete the last 30 credits of residency coursework at UB in order to receive a degree.
The online RN to BSN program is designed for registered nurses who are looking to advance their careers, and enter the professional role of nursing leadership.
The curriculum is designed to expand the knowledge base of basic nursing practice beyond the original nursing associate degree or diploma program. The curriculum provides growth and development in evidence-based practice, health assessment, quality, leadership, safety, informatics, professional seminars, and community health.
Prepare for a rewarding career.
Upon completion of the RN to BSN online program, you will be able to:
Synthesize knowledge from a liberal education in communication, human experience, scientific literacy, analysis, and global society;
Communicate using an ongoing interactive process that builds therapeutic interpersonal and inter-professional relationships for an increasingly interconnected healthcare environment;
Apply the nursing process to provide patient-centered, evidence-based, clinical competent, contemporary professional nursing care;
Apply critical thinking skills to support excellence in nursing practice and to provide comprehensive compassionate, evidence-based nursing care across the life span;
Promote healthy lifestyles through health education, health promotion strategies and population-focused interventions;
Comprehend system-based practice and its impact on safe, quality patient care within the scope of professional nursing practice;
Apply leadership and management skills in the provision of safe, quality and cost-effective care in the continuum of healthcare environments;
Exercise innovative inquiry in the use of information and patient care technology with knowledge based on research for the improvement in patient outcomes; and
Practice within the values, ethics, and legal standards of professional nursing.
90 Transfer Credits Allowed
from accredited institutions
9 Advanced Nursing Courses
Your Future Starts Today!
Financial aid is available, and we accept applications on a rolling basis.
We have comprehensive support services that will get you through college and into a great career.