Bachelor's Degree in Medical Laboratory Science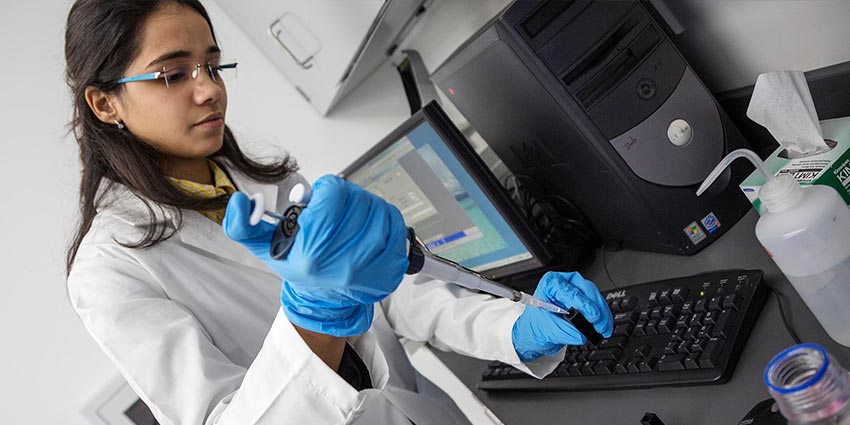 The Medical Laboratory Science program prepares students for an exciting career, for which employment prospects are significant. As one of the best Medical Laboratory Science programs in CT, UB's degree program has achieved national accreditation through the National Accrediting Agency for Clinical Laboratory Sciences.
What is Medical Laboratory Science?
The US Bureau of Labor Statistics defines Medical Laboratory Science as follows: Clinical laboratory testing plays a crucial role in the detection, diagnosis, and treatment of disease. Clinical laboratory technologists, also referred to as clinical laboratory scientists or medical technologists, and clinical laboratory technicians, also known as medical technicians or medical laboratory technicians, perform most of these tests.
A Career with Varied Work
The work is exciting and demanding! As a student in the Medical Laboratory Science program, you will learn how to examine and analyze body fluids and cells from normal and diseased patients. You will look for bacteria, parasites, and other microorganisms, analyze the chemical content of blood and body fluids, match blood for transfusions and test for drug levels in the blood that show how a patient is responding to treatment. Laboratory Scientists also prepare specimens for examination, count cells, and look for abnormal cells in blood and body fluids. They use microscopes, cell counters, run analyzers, and other sophisticated laboratory equipment. They use automated equipment and computerized instruments capable of performing a number of tests simultaneously. After testing and examining a specimen, laboratory scientists analyze the results, make decisions around the quality of the specimen and validity of results and then relay those results to physicians as part of the patient care team.
There are many industries that require the skills and knowledge of the Medical Laboratory Scientist. Check out our career page.
---
Benefits of being a Medical Laboratory Scientist
Multiple career opportunities within various clinical, reference or research labs
Challenging and constantly changing technology
Excellent entry-level salaries and opportunities for growth
Flexible hours and part-time opportunities
Foundation for other health-related careers (Medical School, Physician Assistant)
Becoming an integral part of the health care team and providing quality patient care
Medical Technology Workforce
There is an acute workforce shortage in Medical Technology in the state of Connecticut and the nation. The University has secured the commitment from regional hospitals to serve as clinical sites for students in the program. Because of retirements in the field, the profession needs 15,000 new practitioners per year, yet educational programs graduate approximately 5,000 students per year creating a shortage and opportunity for students according to the American Society of Clinical Pathologists. The number of NAACLS accredited medical technology programs dropped from 709 in 1975 to 234 in 2018 with the University of Bridgeport's program is one of them. The overall medical laboratory workforce across the United States is gradually getting younger as increased numbers of longtime employees in the profession are retiring, according to the results of the ASCP 2017 Wage Survey, published online Oct. 1 in the American Journal of Clinical Pathology (AJCP). This has created many openings and opportunities in the field for graduating students.
2017 Bureau of Labor Statistics data shows that the 3,660 Medical Laboratory Scientists in Connecticut comprise 0.018% of the overall CT workforce with an average mean wage of $63,520 per year. The ASCP Wage and salary survey showed that compared with 2015, there is an overall increase in salaries for most of the laboratory occupations surveyed in response to demand.
Program Outcomes
| | Job placement in career-related fields except for students pursuing advanced degrees | Average graduation rate for students having completed clinical rotations | Average pass rate on the national certification exam over three years |
| --- | --- | --- | --- |
| 2021 | 100% | 100% | 93% |
| 2020 | 100% | 100% | 93% |
| 2019 | 100% | 100% | 93% |
National Accrediting Agency for Clinical Laboratory Sciences
Address

5600 North River Road, Suite 720, Rosemont, IL 60018-5119

Phone

773‑714‑8880
Your Future Starts Today!
Financial aid is available, and we accept applications on a rolling basis.
We have comprehensive support services that will get you through college and into a great career.