Master's in Artificial Intelligence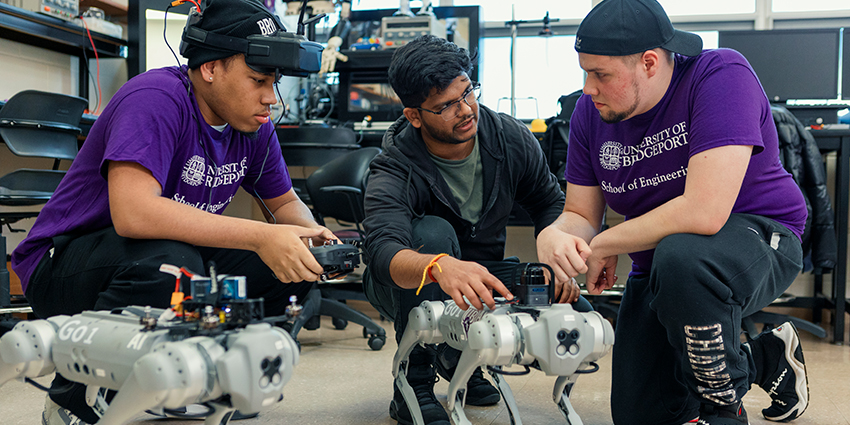 Recognized as a leader in innovation and research, the University of Bridgeport is true to its mission as a career-oriented institution that prepares students for the careers of tomorrow — where job titles are still yet to be written. The AI field is a growing niche area and is now the centerpiece of technology innovation in advanced robotics, autonomous vehicles, knowledge automation, and computer vision.
UB is pleased to launch the first and only Masters in Artificial Intelligence in the state of Connecticut. Instruction is exclusively face-to-face and includes web-assisted courses. Graduates will be prepared for in-demand commercial or research positions in industry (including tech giants) and academia.
Artificial intelligence is one of four main drivers set to dominate 2018-20 that will positively affect business growth per the World Economic Forum (WEC) 2018 report. Machines and algorithms in the workplace are set to create 133 million new roles (WEC).
Jobs in emerging professions are set to increase its share of employment from 16% to 27% of the total employee base. Information cited from WEC's The Future of Jobs Report, 2018.
The average salary for AI is $121k annually per Payscale. A machine learning engineer's salary is $142,855, per the job listing site Indeed.com.
Interdisciplinary Robotics, Intelligent Sensing, and Control Laboratory
The Interdisciplinary RISC lab was formed in 1995 by its founder and coordinator, Professor Tarek Sobh, in order to do research in a variety of Robotics related fields, and as a step towards the development of commercially applicable projects. It is a 3D manufacturing facility for robotic manipulators, autonomous robots and sensory interpreters, unmanned aerial vehicles and drones.
Stem and OPT
The MS degrees offered by the School of Engineering at University of Bridgeport are classified by ICE (US Immigration and Customs Enforcement) as STEM (Science, Technology, Engineering and Math) degrees. Therefore, all International Students who earn an MS degree are eligible for twelve (12) months of OPT (Optional Practical Training) and at the end of the twelve months of OPT, the student and the company the student works for, can apply for an extension of twenty-four (24) additional months of work, as long as the company is an E-verify company. In summary, a graduate with an MS degree can work under OPT in the USA for a total of thirty-six (36) months.
Your Future Starts Today!
Financial aid is available, and we accept applications on a rolling basis.
We have comprehensive support services that will get you through college and into a great career.