Accelerated BSN Nursing Program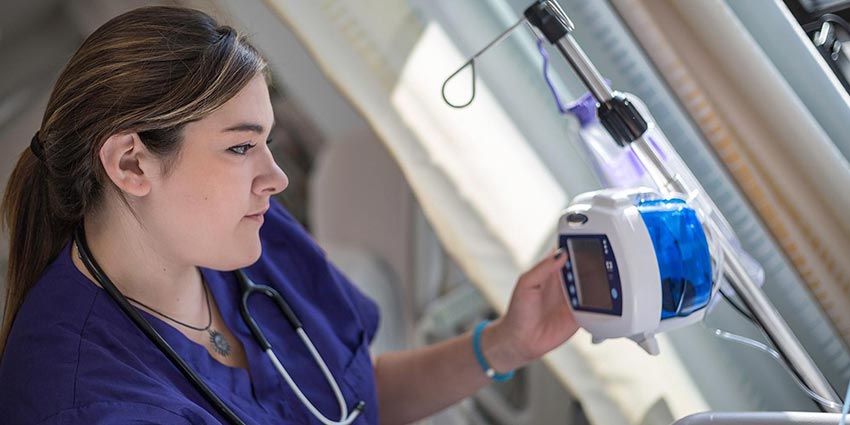 The Accelerated Bachelor of Science in Nursing (ABSN) Program is designed to prepare a graduate nurse for entry-level practice in a variety of healthcare settings, to provide the foundation for graduate education and/or continued education as a life-long learner, and to contribute to quality patient outcomes.
One of the best accelerated nursing programs in CT, our ABSN program is designed for those students who hold a bachelor's degree in a field other than nursing. This accelerated track incorporates the previous non-nursing bachelor's level course education and experience and allows the student to earn a BSN degree in fifteen months.
Students must complete 64 credits in general education and 56 credits in nursing, totaling 120 credits. Along with a solid foundation in nursing, graduates of the program will be eligible to sit for the National Council Licensure Examination (NCLEX-RN® Exam).
Program Highlights
Apply the nursing process to provide patient-centered, evidence-based, clinically competent, contemporary professional nursing care.
Promote healthy lifestyles through health education, health promotion strategies and population-focused interventions.
Comprehend system-based practice and its impact on safe, quality patient care within the scope of professional nursing practice.
Practice within the values, ethics, and legal standards of professional nursing.
Clinical Experience and Education
The School of Nursing has a strong clinical outreach program. Student educational experiences are rich in both lecture content and clinical application of knowledge. ABSN students begin clinical experiences in the fall semester. Clinical sites vary depending on course objectives and content. Sites include local hospitals, such as Bridgeport Hospital, schools, medical offices, and more. Clinical hours include laboratory and simulation experiences in all nursing clinical courses.
Careers
Job placement and salary outlook have been outstanding in both a strong and weak economy. Increasingly, graduates of ABSN programs are the preferred candidates for employment. For further industry information, visit: https://www.bls.gov/ooh/healthcare/registered-nurses.htm.
Your Future Starts Today!
Financial aid is available, and we accept applications on a rolling basis.
We have comprehensive support services that will get you through college and into a great career.