Transportation
UB is located on the I-95 corridor just an hour from New York and two hours from Boston. The seaside campus rests adjacent to Seaside Park on Long Island Sound. Just a short ferry ride to Long Island, a five-minute bus ride to the Metro North Train station and bus terminal, and at the base of Connecticut's Routes 8 and 25, UB is perfectly situated for easy access to local and tri-state area hot spots, dining, and entertainment.
Bus Service
Bus schedules are available at the campus information counter located in the Student Center. The bus terminal is located at 35 John Street in downtown Bridgeport. For more information, please call 203‑366‑7070.
National Bus Lines
For traveling out of the local area and out of state of Connecticut, the following services are available:
Train Services
Metro North goes Southbound to New York City and northbound to New Haven, making local stops along the way in towns such as Fairfield, Norwalk, Stamford, Stratford, Milford and Hamden, etc. For more information please call 1‑800‑638‑7646 or visit mta.info/mnr
Amtrak goes to Boston and Washington D.C., as well as other cities and states on the east coast. Call 1‑800‑872‑7245 or visit www.amtrak.com
The Bridgeport Railroad Station is located in downtown Bridgeport, opposite the bus station.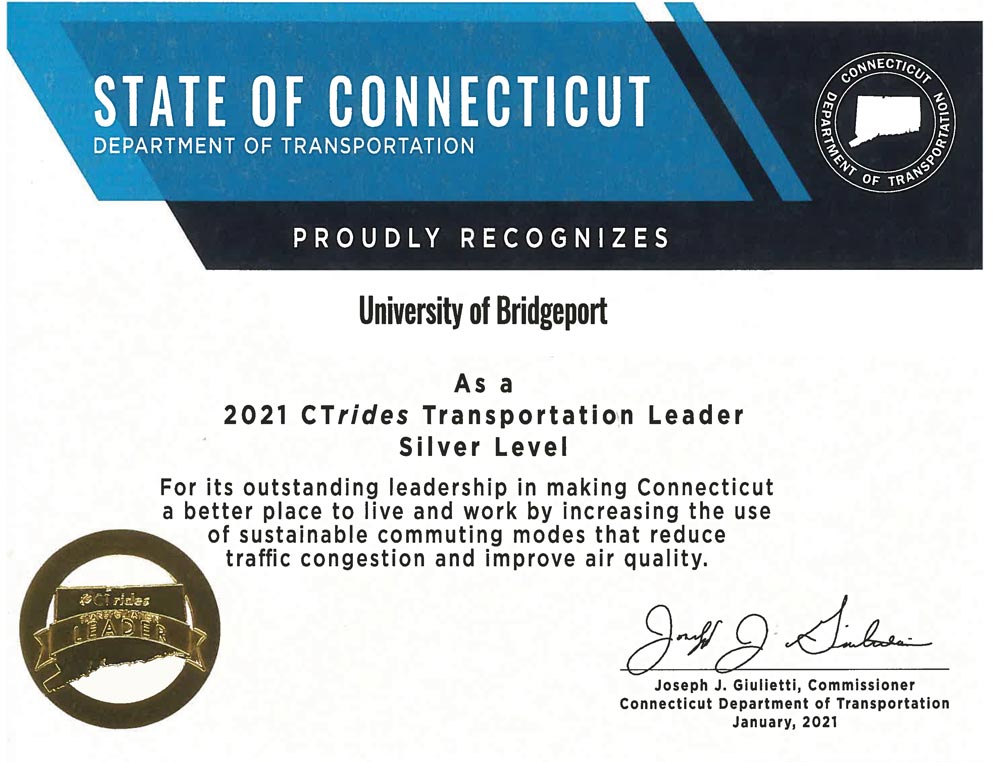 The State of Connecticut Department of Transportation has recognized the University of Bridgeport as a 2021 CTrides Transportation Leader. The award is presented for outstanding leadership in making Connecticut a better place to live and work by increasing the use of sustainable commuting modes that reduce traffic congestion and improve air quality.
This program is extremely important as Connecticut faces the growing challenge of climate change. By encouraging employees to use alternatives to driving alone to work, we are helping in the fight to reduce a major contributor to climate change, greenhouse gas emissions from single-occupant vehicles. Our leadership in this effort is critical to the economic and environmental wellbeing of Connecticut and to the health of its residents.
Other Transportation Options
For transportation from JFK or LaGuardia airports, the University of Bridgeport recommends that you take GO Airport Shuttle to UB. To reserve a seat, you can go to their website and use a credit card. If you have not reserved a seat before you arrive, you can typically secure a seat on a Prime Time shuttle once you arrive at the airport.
Procedure:
Once you have arrived at the airport, claimed your baggage, and gone through Customs and Immigration (for International students), go to the Ground Transportation Counter located just outside the baggage claim area.
Call GO Airport Shuttle on the Courtesy Phone to let them know you have arrived, or tell someone at the Ground Transportation Counter that you want to take the shuttle to the University of Bridgeport. They will tell you where to wait, and the driver will pick you up and take you to your address in Bridgeport.
The ride to the University of Bridgeport takes about 1 hour. The last van leaves the airports at 10:00 p.m.
The cost for the trip to the University of Bridgeport is about $60. You should give the driver a tip of about $5.
If you arrive at Newark Airport in New Jersey, you can use Connecticut Limo. Follow the same procedure as above, but ask for Connecticut Limo instead. Connecticut Limo does not take you to your campus address but arrives at the Bridgeport Terminal. The price is about $65 per person. The van leaves frequently throughout the day, until midnight. Once you arrive at Bridgeport Terminal, you should ask for a taxi to the University of Bridgeport. The cost of a taxi to campus from the Bridgeport Terminal is about $6. You can also make Amtrak reservations to Bridgeport for $30-$55.
DO NOT take a taxi directly from any NY/NJ airport to Bridgeport. It is VERY expensive!