Music Teaching Certification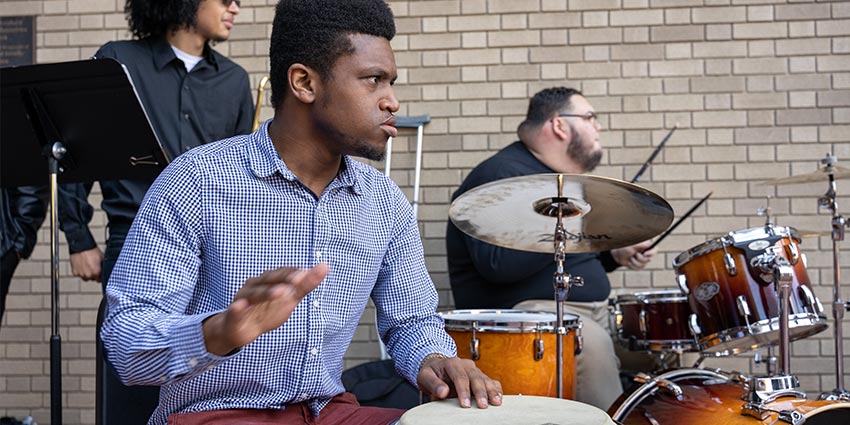 The Music Teaching Certification program allows musicians interested in teaching to develop their teaching skills while becoming state-certified in music (K-12).
Practicing music educators who are already certified in music, or who do not wish to pursue state certification, should apply to the Music Education Concentration within our Master of Science in Education (non-certification) degree program, which offers an individualized program of study that meets their needs as an in-service teacher.
Practicing music teachers work in a wide and ever-expanding variety of contexts: elementary classroom music; secondary general music classes that might include music technology, keyboard, guitar, music theory, music history, and interdisciplinary collaborations; and an evolving array of large and small ensembles including choral, wind band, string, jazz, gospel, rock, and other groups. The ways of doing "school music" we've experienced are often no longer sufficient on their own to reach many of today's students.
Candidates for the master's degree are urged through individualized advisement to build on their prior musical training by acquiring the pedagogical skills necessary to teach in the combination of contexts best matched to their aspirations, interests, and musical expertise. Coursework in music education is grounded in faculty members' years of experience as successful music teachers working in urban, suburban, and rural contexts. Our faculty is regularly invited to give clinics and workshops on innovative practices and to present research at music education conferences in Connecticut and nationally.
Candidates are encouraged to contact the program chair at music@bridgeport.edu to learn more about this program.
Program Prerequisites
Bachelor's degree from a regionally accredited university or recognized international institution

Please note: A master's degree from a regionally accredited university is required for the 6th year program

Cumulative undergraduate grade point average of 3.0 ('B') or higher. Applicants whose cumulative GPA falls between 2.67 ('B-') and 3.0 ('B') will be considered for admission on a provisional basis.
Tuition-Paid Internship
UB is home to the first tuition-paid internship program in the country and trains more Connecticut teachers than any other school in the state. UB works closely with 60+ school districts in Connecticut and Westchester, NY.
Learn More
Required Materials
Application

Official transcripts from each institution attended

International transcripts must include an official course-by-course evaluation of all academic work from www.naces.org

Official Praxis® Core Academic Skills for Educators (5751) score report*

Register for the Praxis® Core at www.ets.org.

Applicants must pass at least two out of the three subtests. Passing scores for each subtest are as follows: Reading – 156, Writing – 162, and Math – 150.

*This requirement is waived for applicants whose cumulative undergraduate GPA is 3.0 or higher.

Two letters of recommendation

Letters need to come from employers, professors or professional associates and must testify to your suitability as a prospective teacher.

Personal statement

In 350 words or more, detail the reasons you are interested in enrolling in the certification program of your choice, highlight relevant background experiences and address your overall professional goals in the teaching profession. Please discuss any activities, general or professional, that have influenced your decision to enter the teaching profession.

Résumé

Certification application

Internship application

This application is only required for those applying to the internship program.

Music certification applicants must submit a video or audio file in one of three ways:

YouTube, Google Drive, or Dropbox link emailed to gradadmissions@bridgeport.edu

CD or DVD sent through the mail

Personal audition/interview with the Program Director