Amy Nawrocki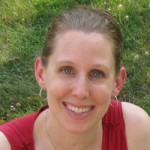 Senior Lecturer, English , School of Arts and Sciences
Office Location: Bryant Hall – 207
Telephone: (203) 576-4297
Email: nawrocki@bridgeport.edu
Personal Website: Visit Website
 Biography
M.F.A., University of Arkansas, 2001
B.A., Sarah Lawrence College, 1996
Professor Nawrocki joined the University of Bridgeport as a full time lecturer in 2007. Prior to that she worked as an adjunct and Learning Specialist with the Academic Resource Center. Since her appointment as Lecturer, she has worked with both the English Department and with the First Year Studies Program. She is an advisor, teaches courses in creative writing and the Humanities, and coordinates the Composition courses. She has taught classes for IDEAL and for the School of Education. She is the co-editor of UB's literary magazine Groundswell and a contributor to the Commons, UB's Faculty Essay Series.
As a poet, Professor Nawrocki has won numerous awards and had her work published in many journals and magazines such as New Millennium Writings, The Wayfarer, Phi Kappa Phi Forum, The Litchfield Review, Illuminations, Garbanzo Literary Magazine, and The Newtowner. She has four collections of poetry, and one forthcoming. She has performed her work on campus and across the region in bookstores, libraries, and poetry festivals.
In addition to her work in poetry, Professor Nawrocki is the co-author of three Connecticut History books. She has lectured numerous times on Connecticut's culture and its traditions. She has appeared with Ann Nyberg and was featured on the Faith Middleton Show.
Courses Taught
English 101, Composition and Rhetoric
English 205, Poetry Writing,
English 252, Women in Literature
English 100A, Basic Writing Intensive
English 105B, Introduction to Fiction
Humanities 201, The American Dream
English 101, Composition and Rhetoric
English 325, Contemporary Poetry
English 216, Introduction to Poetry
English 215, Justice and Law as Themes in Literature
English 102, Introduction to Literature
Areas of Interest
Poetry, creative writing, literature, composition, academic writing, developmental writing, retention, poetics, Connecticut, travel, food and wine, grammar, punctuation, style
Publications
Reconnaissance, (collection of Poetry), Homebound Publications, 2015
Four Blue Eggs, (collection of Poetry), Homebound Publications, 2014
Literary Connecticut (co-authored with Eric D. Lehman), The History Press, 2014
A History of Connecticut Food: A Proud Tradition of Puddings, Clambakes, and Steamed Cheeseburger, (co-authored with Eric D. Lehman), The History Press, 2012
Lune de Miel (poetry chapbook), Finishing Line Press, 2012
A History of Connecticut Wine: Vineyard in Your Backyard (co-authored with Eric D. Lehman), The History Press, 2011
Nomad's End, (poetry chapbook), Finishing Line Press, 2010
Potato Eaters, (poetry chapbook), Finishing Line Press, 2008
Honors & Awards
Winner: "The Uncurtained Window," from Phi Kappa Phi Poetry Contest, 2014
Honorable Mention: "Butterfly Burial" from New Millennium Writings, 2014
Finalist: Four Blue Eggs, from Homebound Publications Poetry Prize, 2013
Finalist: "Smoke of Ambergris," from The Loft Anthology Ekphrastic Poetry Contest, 2013
Winner: "The Mail Drop," from Phi Kappa Phi Poetry Contest 2012
Honorable Mention: "Still Life with Parsnips and Snow," from The Newtowner Magazine's International Poetry Contest, 2012
Finalist: "A Great Deal of Company" from the Phi Kappa Phi Poetry Contest, 2011
Winner: "Annotating the Text," from the Litchfield Review Poetry Contest, 2007
Finalist: Potato Eaters, from Codhill Press Poetry Contest, 2007
Honorable Mention: "Noah and the Cave" from the Connecticut Poetry Society, 2007