With the help of the Entrepreneur Center, UB student Necas Collins has taken his latest project, BLACC Bottle, all the way to the NBA.
BLACC Bottle exists at the intersection of design and culture. "We created a bottle that has a message of honesty, integrity, and transparency," says Collins proudly. Born in the incubator of UB's Student Entrepreneur Center, this project moved quickly from idea to reality. It is a branding initiative centered around an eco-friendly, insulated stainless steel, 25-ounce bottle that keeps liquid cold for 24 hours, has a deluxe feel to it when you hold it in your hand, and is painted with inspiring messages.
"Our mission at BLACC Bottle is to create luxurious products that represent love for oneself and love for all," says Collins. "In the process, we hope to inspire and support other minorities through our accomplishments and targeted programs." He credits the Director of the Entrepreneur Center, Professor Elena Cahill, with giving him the confidence and competence to try out this venture. "She is constantly sending us opportunities and providing support along the way," he says.
Fellow entrepreneurs Ralph White and Delano Bennett have joined Collins to develop this idea. "I've surrounded myself with a great team," says Collins. "I wanted to talk about how diversity and inclusion help businesses grow." The acronym "BLACC" stands from Bonafide Love Advancing Cultural Change. "It's a reminder to lead with love for others and oneself," says Collins.
It is not Collins' first successful project. Last year, he won first place at the Virtual Techstars Startup Weekend hosted by Sacred Heart University with his idea to create a platform called Moo-La Investment Group in order to help farmers in his native Jamaica raise capital to expand agricultural production. "Necas is a team player, and he tapped into some of the other talent we have in the Innovation Center for his website," says Collins' mentor at the Entrepreneur Center, Peter Divone.
As a student at University of Bridgeport, Collins has had access to legal and financial help for his business ideas, from professors, other students, and affiliated experts like Divone. "The Innovation Center is there to provide guidance and a legal team," says Divone. "Students can get input from all the mentors and take advantage of that."
"Since I joined the Entrepreneur Center, Peter has been a mentor for the fundamentals of business," agrees Collins.
Collins and his team first tried venues like the Black Rock Farmers Market to sell their product, but also have a shelf at the Emporium in downtown Bridgeport, which is run by another Entrepreneur Center mentor, Mike Roer. It is a book and record store, coffee and pastry shop, but also a showcase for student and local startup products and services. "We allow people to keep their day jobs," says Roer. "If sales go up and they outgrow our services, that would be great."
Students and community entrepreneurs get shelf space at Roer's Emporium downtown, but also the benefit of his connections and experience. He shows them how to fulfill orders and ship them out, gives them customer training, and find other places to sell their product. "It's a great experience," says Roer. "It's actually about building students as entrepreneurs rather than their ventures."
We've had a solid foundation," agrees Collins. "When I look at myself two or three years ago, I originally wanted to move up in corporate, where I am a general manager. Then UB helped me tap into the network and gave me the tools for entrepreneurship. I feel more confident and have accelerated the process."
In September 2021, that foundation paid off when the NBALAB picked up BLACC Bottle as a partner. NBALAB subcontracts licenses to small and medium businesses and tests their products over two years. Based on results and revenue generated, they will introduce BLACC Bottle to the NBA to be an official partner. The design and content of the bottle will be the same with minor, personal modifications for different teams, and the NBALAB will send some to players and other stakeholders.
"We are a small brand, for now," says Collins. "We want to take our time and grow organically, but we are thinking big." It doesn't get much bigger than the NBA.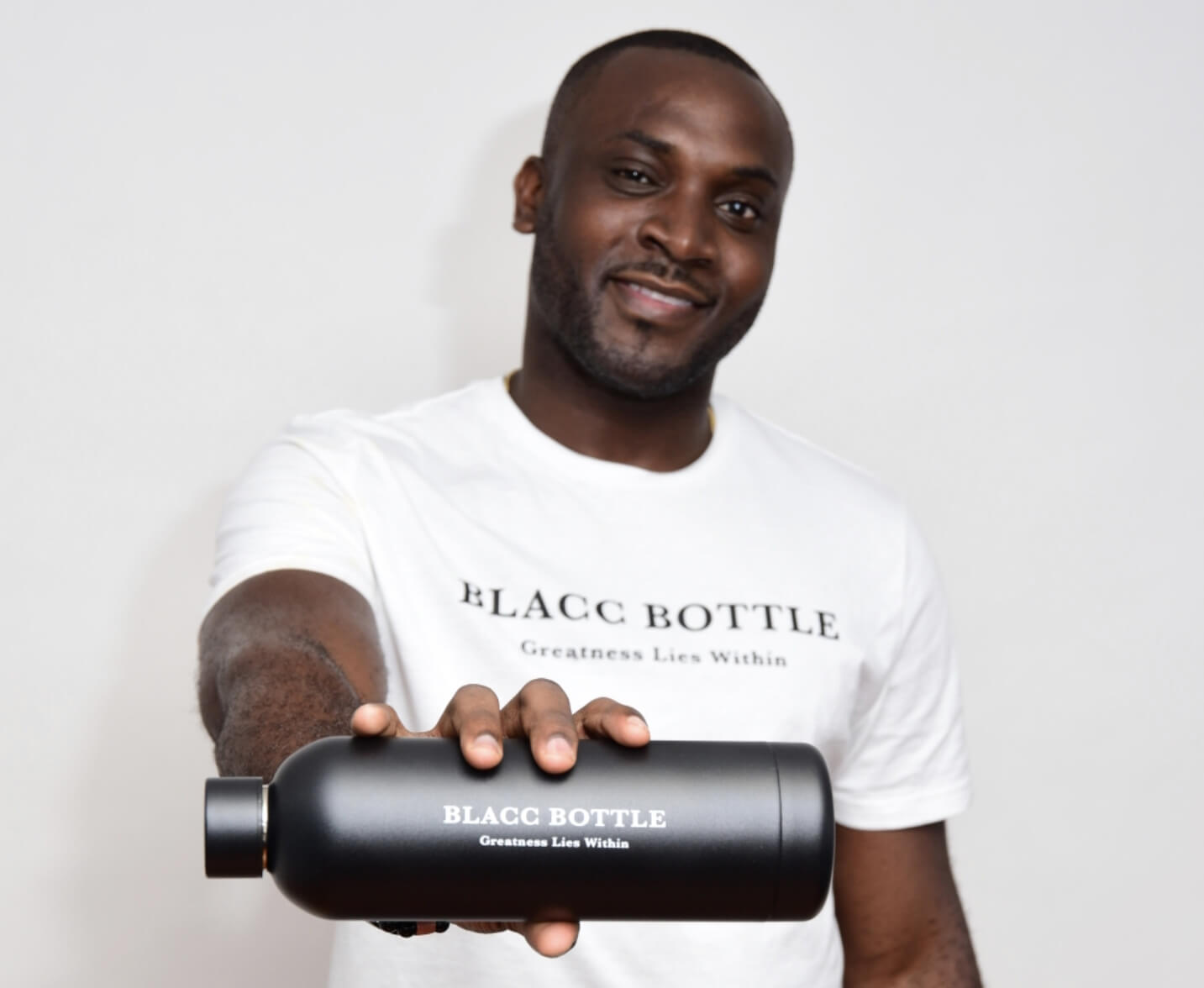 The Student Entrepreneur Center, located in Bauer Hall at 82 Marina Park Circle, is open to all matriculated University of Bridgeport students and aims to accelerate the successful development of start-ups. The mission of the Center is to produce successful businesses by providing student entrepreneurs with an array of targeted resources and services. Learn more about the Student Entrepreneur Center.