Business Administration (M.B.A.)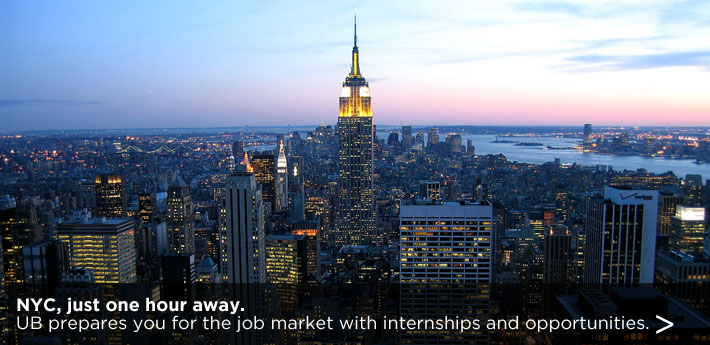 Become a leader in the next generation of business with a Master of Business Administration degree in General Business from the University of Bridgeport. At UB's Ernest C. Trefz School of Business, theory and practice come together for student success as we blend academic scholarship with practical solutions in a dynamic and challenging environment. Our programs integrate timeless lessons with contemporary issues and are delivered using both traditional and technology-based methods by faculty who are both academics and practitioners.
With nine concentrations to choose from, your M.B.A. will truly enable you to meet your personal and professional development goals. Whether you take classes on weekdays, evenings, weekends, or online, we've got a program that will provide you with the knowledge to build a successful career, and the practical skills to immediately enter the workforce.
At University of Bridgeport's Trefz School of Business, you will:
Receive individual attention
Engage in highly interactive classroom discussions with international students and faculty
Learn relevant quantitative methods and professional interpersonal skills in technology enabled classrooms
Be taught by renowned scholars and highly successful practitioners
Compete against world-class universities in team competitions
Collaborate in multidisciplinary classes with other UB schools
Enjoy close proximity to New York/Connecticut/New Jersey multinational corporations and entrepreneurs
We encourage you to learn more about UB's Trefz School of Business and our MBA program.
Request
INFORMATION
Want to learn more?
Request information about our career-oriented programs…
Oct
9
Fri
Welcome Back Weekend 2015

@ University of Bridgeport Campus
Oct 9 @ 6:00 pm – Oct 11 @ 3:00 pm
Oct 09th 6:00 p.m. – 9:00 p.m.
Oct 10th 9:00 a.m. – 10:00 p.m.
Oct 11th 9:00 a.m. – 4:00 p.m.
University of Bridgeport Campus
Come show your Purple Knight Pride! 
Alumni, students, families, faculty, staff and friends of UB are all invited to come to campus for Welcome Back Weekend 2015!  Reconnect with old friends and rediscover the University of Bridgeport by attending one of many great events throughout the weekend!
Registration
$20 for adults, $15 for students and children under 18, and free for students on a UB meal plan.

Your registration includes a free tee-shirt, continental breakfast and BBQ lunch on Saturday, and brunch at Marina Dining Hall on Sunday!  Also includes entry into events throughout the weekend (exceptions: UBCC Dinner, Athletics Hall of Fame, 5k). Pick up your shirt, lanyard, and more info at the Cox Student Center on Saturday and the Marina Dining Hall on Sunday.
Schedule of Events – See below for details or Download PDF
Friday, October 9
Saturday, October 10
Sunday, October 11
All events, locations, and times subject to change.
Hotel and Travel
The University of Bridgeport has arranged discounted rates at local hotels for anyone attending Welcome Back Weekend:
More information:
Subscribe to filtered calendar