Annual Report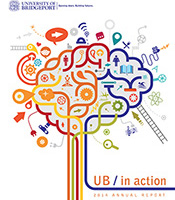 Please take a few minutes to review the 2014 Annual Report. This year's report is titled UB In Action. While reading through the material you'll see how our campus is growing, creating, winning, and giving. You'll also be able to see UB's financial statement for fiscal year 2014 and the current list of contributors to UB.
Each year we find more reasons to celebrate. Our annual report is a snapshot of the great things happening on campus, all of which wouldn't be possible without our generous donors.
If you'd like a print copy of the report or to speak to someone about this year's edition, please contact Emily Brady, Director of Annual Giving at 203-576-4542 or embrady@bridgeport.edu.
Annual Report Archive